OOTD: No Snow Can Wear Beret?
I shall declare that this is one of my finest, most inspired moment just yet. I usually go for the soft feminine look, one that echoes my romantic inclination and a minimalistic approach to accessorizing because I believe "less is more".
However, I am a little jealous of all you people who get to layer in the cold, wear luxuriously soft coats and don on colourful leggings even if I do not envy how cold it can get. Singapore had been sporting a surprisingly cool weather and little sun and by cool, I mean it is still about 25 - 27 degrees celsius but comparing it to its usual 32 - 33 degrees all year round, this is winter for us and as good as it can get! So out comes my beret for some action. About 3 - 4 years ago, I wore berets frequently like a second skin and no one could understand this act of oddity in a climate like ours. I outgrew it and stored them away but seeing so much snow in all the blog posts made me dig it out again to relieve a moment of the past.
But of course sad lonely Murphy decided to intervene and made the day
especially
bright and sunny so while I look like a fool sporting a knitted beret and a cardigan to lunch, the lighting was great and it was well-worth the amount of sweat I had to endure for the latter part of the day.
Without further ado, I present to you - the Purplish Pink Leopard!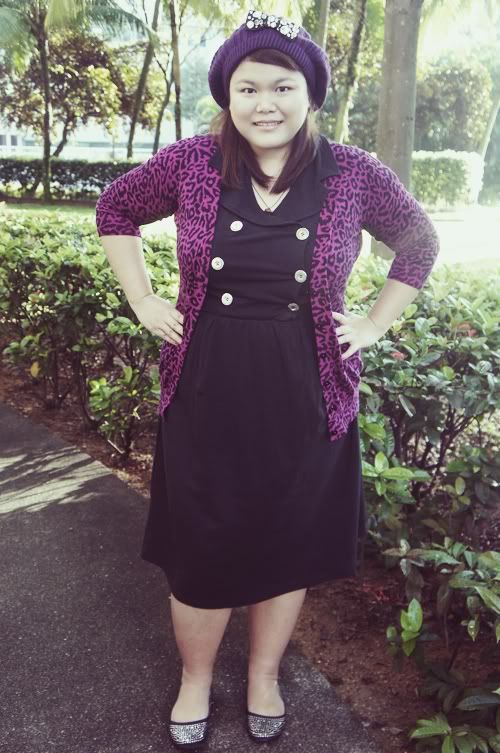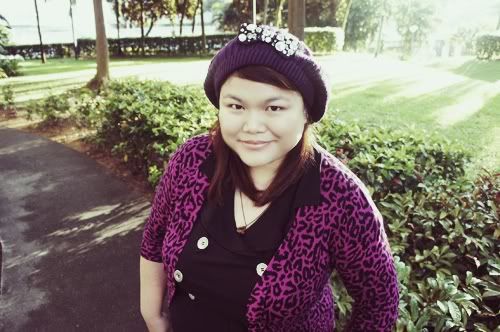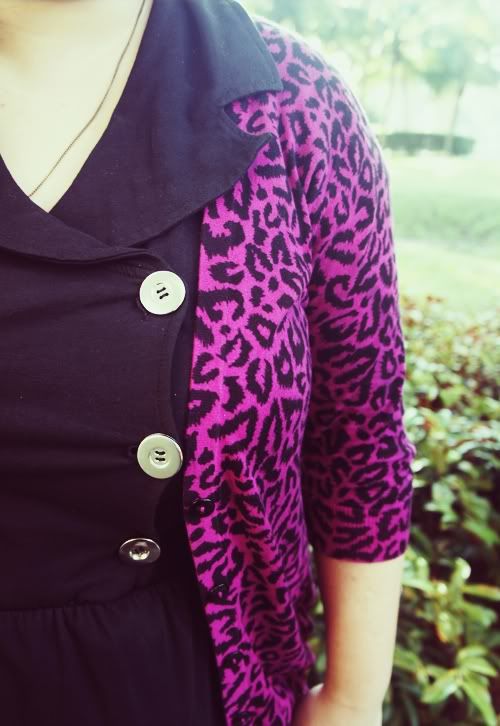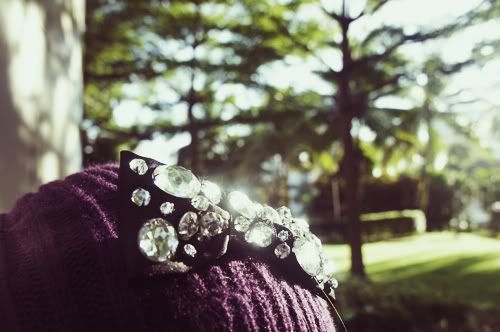 I wrenched the leopard print cardigan away from its rack the moment I spotted it. I do so want a leopard print cardigan in beige like the
one
H&M had awhile ago but it hasn't found its way into my life yet. For those who are freezing out there, hope the pictures of sunshine bring to you some warm memories of the past.
Pink Leopard Print Cardigan: Warehouse
Navy Dress: Walk With Grandam on Well-Lit Street (worn on its own on my first OOTD with my face on!)
Studded Shoes: A shop off Far East Plaza
Wooden Squirrel Necklace: Tatty Devine (seen here)
Purple Knitted Beret: Topshop
Black Bow brooch stitched with gems: Gifted (from Korea and seen here)
Labels: Beret, Bows, Dresses, Leopard, OOTD, Outfits, Tatty Devine, Topshop, WALK, Warehouse