OOTD: Khaki Funky
Looking back at the photographs makes me laugh so hard ... simply because I looked awkward and the little leopard bow on my hairband somehow has this magical ability to make me want to act cute but not succeeding.

Disclaimer:
You might not want to proceed with the rest of the post straight after dinner. 2 - 4 hours time lapse recommended.
Shall we begin?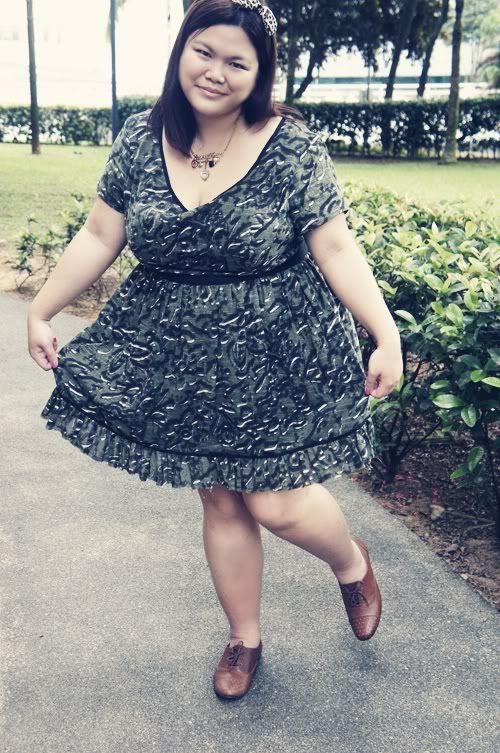 I look like I am about to hop and skip and gather berries if there was a basket on my arm.
I like the blurry effect so the picture is here.
Don't ask me why I decided to bend a leg. It was probably more in the line of "hey, I ran out of poses, can I be any more interesting?" In fact I am trying very hard to contain the spasms of giggles that would follow. See my face!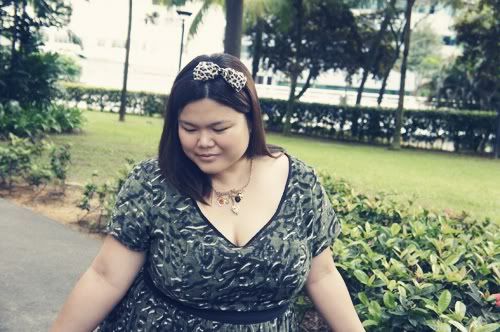 Just to show you my hairband.
My one of two pairs of brogues I own which I love to bits.
The morning I awoke to think that it is a very bad idea to mix the prints on the dress with my leopard-print bow hairband but I
really
want to wear the leopard-print bow hairband so I did. If people can wear stripes with polka dots, mix stars with hearts, I can wear leopard print with camo.
Verdict for
ASOS Curve Khaki 50s Waisted Dress
:
I am in between size 18 - 22 but have always bought everything from
ASOS Curve
at size 22 simply because I don't have the luxury of sending back clothes that don't fit unless I have extra money to burn. I'll rather it fit than not fit! I have a size 24 waist and a size 20 bust so it's hard to strike a balance. This dress fitted nicely on my waist but hangs too loose on my bust which is the reason why you see the neckline dip down to a gentle 'V' in my pictures. At 5'5", the dress length is just nice on me, verging on the borderline case of being a little short so I can imagine how short it will be for anyone taller. I do like the unpolished hemline with little wisps of straying fabric (there must be a term for it but I can't think it off the top of my head) because I feel rugged and tough. The cotton material is cool and comfortable especially for someone who is in a warm and humid climate. I never had a camo style printed dress so it is a good addition to the wardrobe but I can't say that it is a must-have so it is better to wait for the sales!
Bows for
ASOS Curve Khaki 50s Waisted Dress
Check out
Pretty Penny Mae's
take on the same dress!
Khaki 50s Waisted Dress: ASOS Curve (here)
Sweetheart Necklace: From a Diva sale
Leopard Bow Hairband: Topshop
Brown Studded Brogues: "Your Feet Look Gorgeous" range from New Look
Labels: ASOS Curve, Bowdicts, Brogues, Camouflage, Diva, Dresses, Khaki, Leopard, New Look, OOTD, Outfits, Reviews