Bowdicts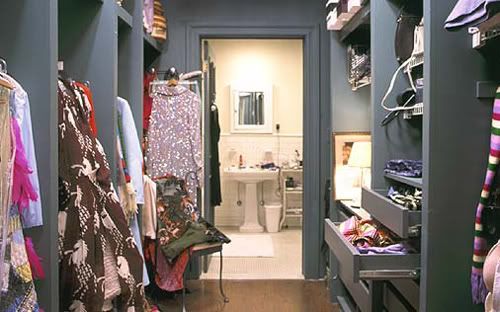 Carrie Bradshaw's Wardrobe
It is really no secret that I am a shopaholic. In fact I have this fear of not having enough clothes. If someone hasn't come up with a word for that type of syndrome and ends with
-phobic
, they should.
I am ashamed because all these money could really be saved up for a rainy day or put to better use but to justify, Singapore is a dismal place for thrifting and there are scarcely places that have a decent size range with the big girls in mind and even if there is, the bigger size clothes are snatched up faster than you can go "Holy Molly". And we have ourselves no Primark. Instead we have unflattering clothes designed to emphasize our very fears and help your self-esteem plunge a new low. So ever since discovering the joy of online shopping, I've been throwing myself into its embrace, choosing to skim on other little things like the refusal to do my hair until I can bear it no longer or going shopping locally trying to squeeze into ill-fitting clothes and I work through public holidays to earn the right to more purchasing power. In case you are wondering, everything is bought with cold hard cash otherwise I'll say so.
Since it is almost impossible for me to just send back clothes that don't fit, I rely on my instincts, scrutinizing the details of a garment to decide if I need a bigger size or take the gamble for a smaller one. I also rely a lot on reviews from each and everyone of you who have perhaps bought the same garment and share your pictures with me so that I can see how it fits. I have relied many a time on Devon over at
Fat Nurse
for reference and saved myself some when I decide it is not for me. I've trawled
Elizabeth's
and
Rebecca's
blogs when I was trying to buy me a Beth Ditto Polka Dot Dress.
ASOS Curve is quite decidedly ridiculous to cloth women who are a most likely size 14 in their size 20 onwards garment. Forever21+ is a little better. At least the model is probably a size 16 - 18 and they sell up to a 3X anyway. But ASOS Curve, come on! So to cut the long story short, I have included a
bowdict
system for newly-bought garments which might help
you
to decide if it is worth biting the bullet for or if you are going to wait for a gigantic discount code.
Bowdict is just a mash of two words "Bows" and "Verdict". I'll use the number of bows to indicate my liking for that particular garment just like what you see for movie reviews. All bow scores are out of five.
The bow looks like this:
I've already started modifying some previous entries to include the bowdicts! All bowdicts are my own opinion and one is always welcome to agree or disagree! Afterall, not all bodies are made the same to fit the same.
Labels: Bowdicts, Reviews, Scores, Shopping