OOTD: ASOS I Bow To Thee
Since I've discovered how reasonable
ASOS
shipping to Singapore has been, I've been very obsessively checking in everyday to see what new items they have and till date, I've already shared two shipments with my coworkers and it is very exciting for us to have packages to open up to during our mundane workdays!
I remember what
Evie
said about stepping out of comfort zone in her "
Taking A Risk...
" blog entry and decided to try to inch out of it. I used to be a "walking Christmas Tree" according to a friend when she saw me for the first time in office five and a half years ago. I made sure then I had colourful necklace, bracelets and earrings everyday then and was dripping with accessories although they weren't diamonds. Five and a half years later and nearly reaching thirty (ugghh), I have toned down a lot and chose to wear only a piece or two at a time. Basically my accessories are now stored in boxes now, waiting for the day to shine. I wore one of my regular necklaces these days and dug out not one, not two ... but
four
others to put on this day. Why the hell not, right?
This is my glitter-iest scarf to date for sure, a tribute to my sequins obsession and I grabbed it off the Zara shelf when I saw it, draped it over myself, felt pretty in it and brought it straight to the cashier. It works really well over plain tops, especially white ones. I am still looking for creative ways to wear it. Over dinner, it kind of felt like a bib on me. I was petrified of dripping soup on it.
This is the
ASOS CURVE Jersey Puff Sleeve Zip Back Top
in Black. It comes in two colours and if there is a sale, I'll get the other colour for sure. The jersey material is ultra comfortable, sweat-absorbent and does its job of keeping me nice and cool in the ever hot and humid Singaporean weather. I am always partial to the "Puff Sleeve" design because my shoulders are a little droopy and puff sleeves add a little definition to them. The invisible zip is just a nice touch. My basic black top criteria is that it must have subtle details to make it not too casual so that I can wear out in the evenings if needed, nicely-made because I wear the
heck
out of them. At £20, even though it is expensive after currency conversion, I can justify it because it has
everything
I look for.
This is a navy blue bow skirt on clearance at ASOS but sadly it is no longer available. On the model, it looks very short but seeing that the model is 5'11, I knew that the skirt length would be perfect on the short me and it is. When it was on clearance, it only had my size so I knew that Providence decreed that I should own this and pounced on it. Made of linen material means it creases slightly after wash and if I didn't hang it up but it doesn't bother me. I love the bow on the skirt but I wish it was stiffer so that it would be noticed. The waist didn't really fit that well but if I had gone for a size smaller, my tummy would be quite visible. The thing about tight-fitting clothes is that whenever I go on the subway, considerate beings would stand up and let me have their seats which embarrassed me no end so I try to stay away from the seating area most of the time. But at £6, there is absolutely no complaints from me. Zilch. One of the
best
ASOS buys ever.
My well-loved leopard print shoes are the reason I keep trying to match my clothes to it nowadays. It is flat and comfortable, allows me to run after buses, thieves and away from the rain! The Boy doesn't understand leopard print but ... the print, they spoke passionately to me!
The gold bearings necklace is a current staple and goes well on most stuff I own but I haven't worn the rings out in ages. The red felt ring was a handmade
Etsy
buy years ago and was twilled from 100% merino wool with a vintage button secured in. I have another in gray.
The entire outfit.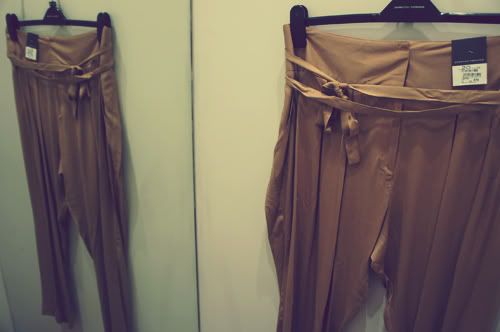 I found this pair of camel harem trousers which look pretty perfect in Dorothy Perkins the other day but alas, it doesn't come in my size. Dorothy Perkins
should
carry bigger sizes in Singapore. I would have bought it in a heartbeat if I could wear it.
* * *
In Chinese tradition, when a newly-born turns a month old, it is a cause for celebration. Parents would either whip up a storm and invite friends and family over or cater a buffet if they are too lazy. I was working on the day my coworker has a "one month old" celebration so he brought over some traditional sweets and cakes for those who couldn't attend the actual event.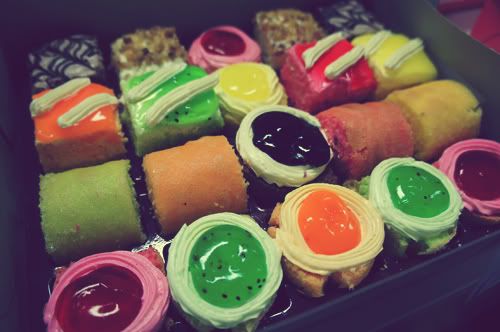 Swiss rolls and cream cakes of various toppings
Fruit tarts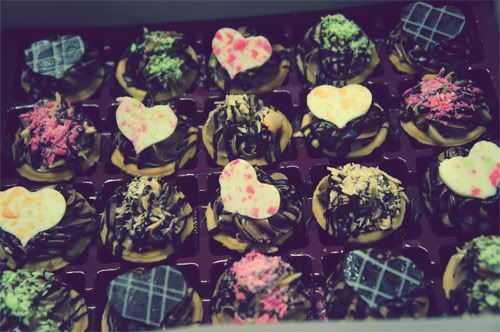 Chocolate and Coffee tarts with Love
Perplexing-looking cakes and dyed red eggs
The red cakes are known as 'Ang Ku Kueh' or a literal translation of 'red tortoise cakes'. If you look carefully, it has a tortoise-shell design on it. In reality, it is a steamed glutinous rice flour cake mixed with mashed sweet potato and filled with mung bean paste filling or finely-grounded peanuts. They have a symbolic auspicious meaning to it. Tortoises or turtles are viewed as creatures blessed with longevity so in serving these to guests, it is a hope that the baby would live to a long, ripe age. The eggs are dyed red because the colour red represents happiness and good luck. Eggs are significant because they symbolize fertility and the renewal of life. Also, their shape is traditionally associated with harmony and unity. Yes, we chinese are all about symbolism!
Bows for
ASOS Curve Jersey Puff Sleeve Zip Back Top

Bows for
ASOS Curve Navy Bow Skirt
Jersey Puff Sleeve Zip Back Top: ASOS Curve
Navy Blue Bow Skirt: ASOS Curve
Leopard Print Shoes: "Your Feet Look Gorgeous" range from New Look
Sequinned Scarf: Zara
Handmade Merino Wool Ring: 3FUN from Etsy
Lips Ring: a shop off Far East Plaza
Gold Bearings Necklace: Soon Lee, Haji Lane
Labels: Ang Ku Kueh, ASOS Curve, Bowdicts, Bows, Cakes, Food, Leopard, New Look, OOTD, Outfits, Reviews, Shoes, Skirts, Tarts, Your Feet Look Gorgeous