OOTD: Roses Turn Black And White In November Rain
Pardon my squinting in the early morning sun. I can't seem to open up my eyes when I don't have enough sleep. The first time I saw the dress on the racks, I didn't love it. In fact, I walked past it a number of times without feeling slightly inclined to pick it up. This dress was in the shop exactly a year ago, near to the Christmas season and definitely meant to be a party dress or a date out. Finally one day, I ran out of things to try on the rack and eventually picked it out and went to the fitting room with it. Afterall, trying doesn't cost anything. The moment I slipped it on, I was enamoured with the the shape of the dress. It is a tulip-shaped dress, extremely flattering for those who are looking to have more curves. It narrows the waist ever so slightly, comes with pleats at the waistline to hide the love handle and flares out at the hips to give a curvy silhouette. Ever since then, I'm constantly on the lookout for tulip-shaped dresses or skirts. I wore this dress once to a party and there was a stranger who gave me unwanted attention so I'm guessing it works.
Usually this dress would never see the light of day (because it's out for party at night) but ever since I bought it, I've only worn it once and felt that it was too underutilized so I brought it out to be worn to work, paired with one of my new butler/rabbit waiter jacket. The jacket has small ruffles outlining the jacket, keeping it stern but yet just a little bit romantic. Ever since I've put it on, I couldn't help thinking of rabbit waiters serving dinner plates.
Oh and I know the slippers are totally off but I hurt my toe and couldn't cover it up so it had to be that way then.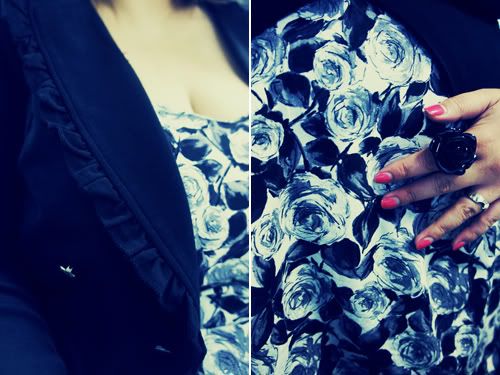 The roses print on the dress looks like a watercolour painting.
And finally, finally, I received my first ever
ASOS Curve
order that took nearly a month to arrive. I received two shipments of
ASOS Curve
orders so far (the second order came via express so it was fast) and I am in love with everything I purchased except for this one skirt. I'll do a review for those interested in how garments from
ASOS Curve
fits on an extra large Asian frame like myself.
Black and White Dress: Dorothy Perkins
Rabbit Waiter Jacket: Miss Selfridge
Black Rose Ring: Off the streets of Bangkok
Silver Promise Ring: Gifted

Labels: Black And White, Dorothy Perkins, Dresses, Fashion, Miss Selfridge, OOTD, Outfits, Roses