Have You Gone Too Far?
So I was just browsing online as usual, stumbled upon
Corpulent's
entry and
this
makes me angry.
So Natasha Hughes think that other people should not be subjected to someone else's "rolls" and that it is not stylish and devoid of decency to expose the rolls.
So it is considered "decent" to expose if you have no rolls? I am sorry but my sense of decency seems to only elude the type of people I abhor like you, Natasha. Otherwise, I promise, I am the very epitome of "decency" towards the deserving and the non-judgemental.
The very words of Natasha Hughes:
"Who wants to be exposed to someone's rolls? Where is their sense of style, of decency?"
- "Comfortably Tummied" article on SMH
It is almost akin to say that you, Natasha, should not be allowed out of your house or should at least cover up your face well and properly before you leave home lest you scare and make the little kids cry with your wrinkles.
Now how does that feel?
If that feels like a personal attack, that's because my sense of decency has just done a skip, a hop just to get around you.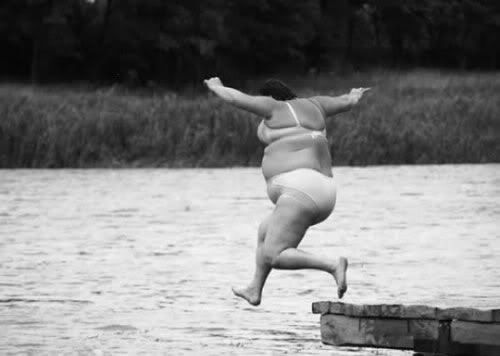 It's fucking swimming. We just want to have fun in the water. (photo credit)
Labels: Fat Acceptance, Natasha Hughes, SMH