Friday, I'm In Love / Saturday Wait
It is a rare occasion I get a Friday off. Essentially, my work schedule runs from Mondays to Fridays but once every 2 months, I have to work a weekend which isn't really too bad but since I am the only one working the weekend, it tends to get lonely and cold in the office. If I'm working the weekend, I get Friday and Monday off so it's nice if you want to go shopping and not get caught in a crowd. In Singapore, it is
very
easy to get caught in a crowd because there are people everywhere.
I had to maximize my Friday for the weekend loss so I went about places and am proud to bring about my first full body without head "Outfit of the Day"! I took it myself and my arms are only about that long so I did the best I can.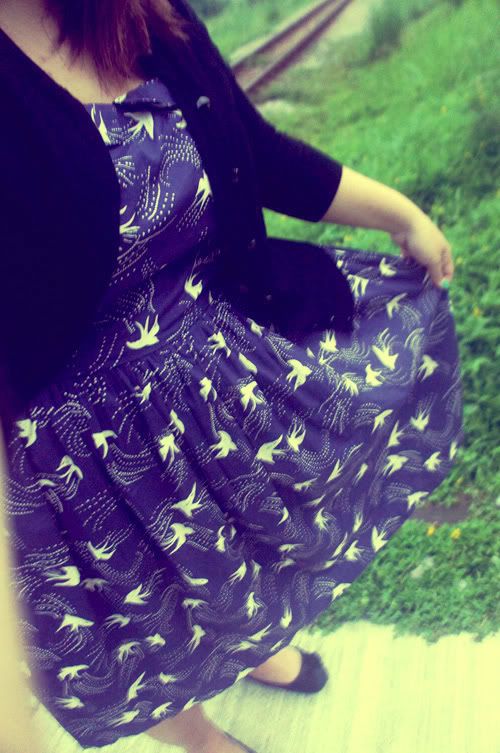 I've been looking out for this dress in the post ever since I bought it off eBay and it's finally here, a perfect fit on me! It is supposed to be very popular (from what I read) and sold out at the stores but I'm glad to find it and bought it at a cheap price too! There is a red one that I'll like to have too but I suppose sometimes a long and hard search isn't nearly enough. It takes a lot of luck.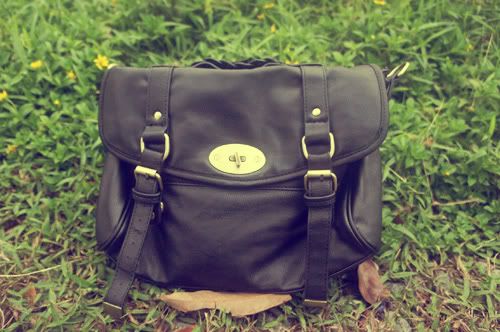 My Mulberry Alexa-inspired bag. I don't have the money to buy the real one and even if I do, forking out nearly SGD 2000 in cold, hard cash can cause wet perspiration. Well it's okay, I can live with the inspired one. It's surprisingly roomy but looks compact.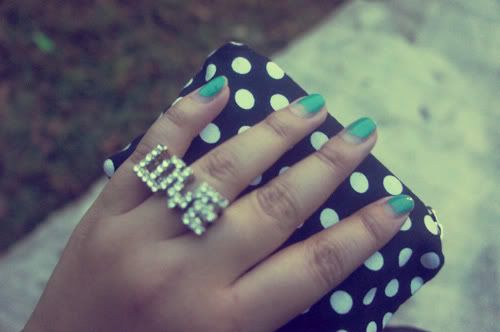 My sparkly LOVE ring that makes me sad because I wore it for the first time and already, one of the diamantes is gone.
The Boy and I found this old railway track by chance. I don't suppose any train runs on it anymore because I've sat and waited and no train came by at all. It is probably one of the very few places in Singapore that we can find a real railway track anymore.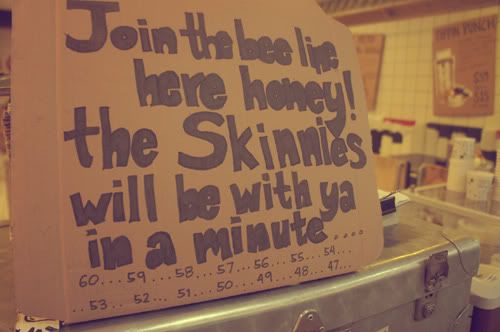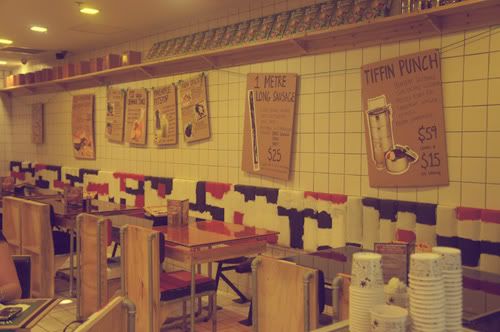 This is Skinny Pizza located at Wheelock Place. My friends brought me to lunch at
Cedele
because they didn't feel like pizzas. Much as I also love the Carrot Cake at
Cedele
, we wanted to try the Skinny Pizza's desserts next door whose display proved more than a temptation for us.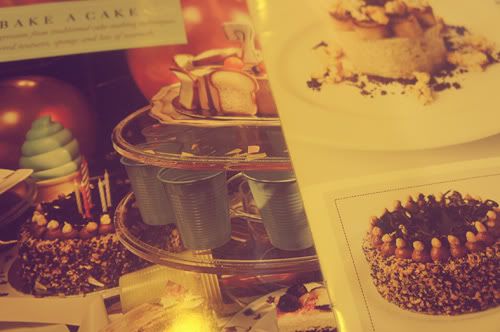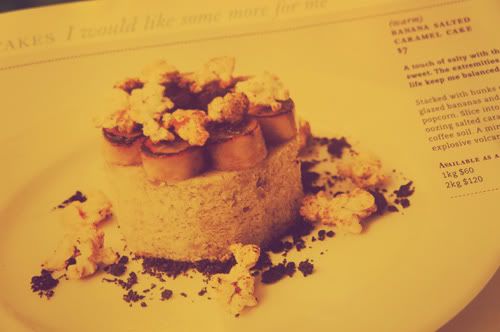 Just look at the Banana Cake!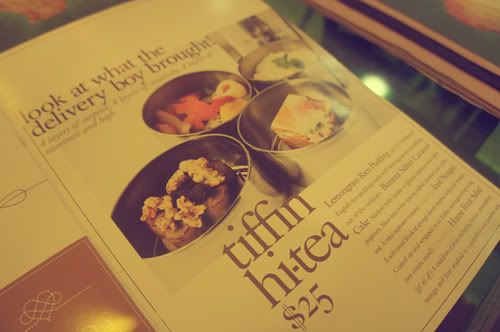 They have an interesting Tiffin Hi-Tea menu so I might come back someday and try it.
This is the Bitter Chocolate Tart. I really like it because I don't like sweet chocolates as much as I like them bitter. I have a very high tolerance level for bitter cocoa.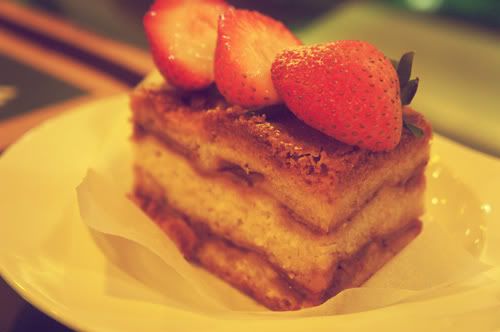 And this was the main attraction at the display window. It looks fluffy with strawberries between the sponge layers and had large, juicy strawberries (albeit sour) to draw the hungry crowd near.
The Boy fetched me and we were supposed to have dinner but couldn't think of where to go so we ended up at Island Creamery. Really? Ice Cream for dinner?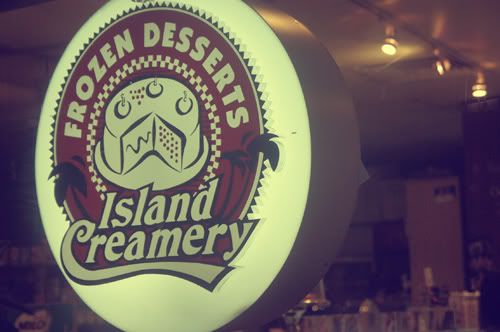 A friend brought the Boy to this ice-cream place. They have interesting local flavours including teh-tarik ice-cream. For those who don't already know, teh-tarik is 'pulled' milk tea.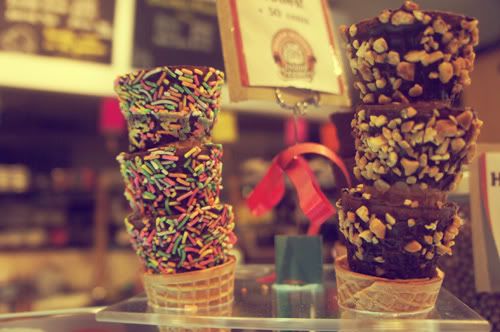 I do like colourful cones with rainbow rice and chocolate bits. They make me happy just by looking at them.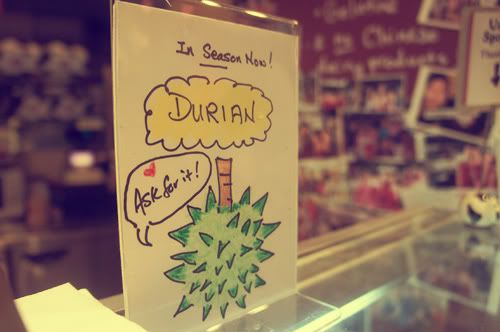 You'll know when the durian season is in.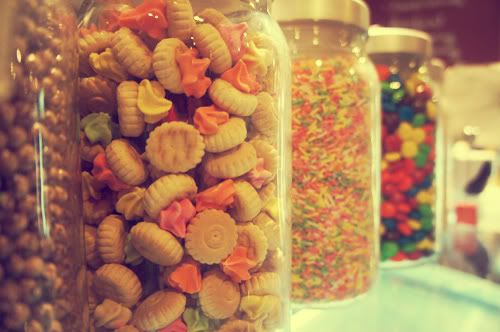 These are the available toppings for our ice-cream. Dear retro iced gems biscuits! I call it 'childhood food'.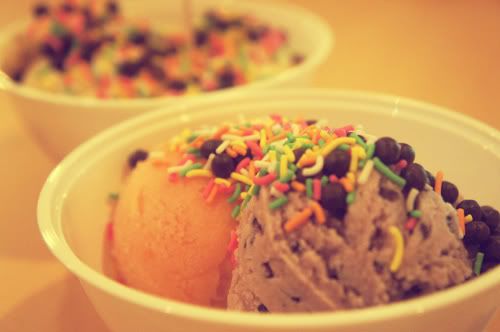 Our choice of ice-cream: Papaya Sorbet & Pulut Hitam for me, Coconut & Horlicks for the Boy
The Pulut Hitam ice-cream does indeed taste like frozen Pulut Hitam complete with the coconut taste and was utterly delicious.
Dotty Bird Dress: eBay, New Look Inspire collection
Black Cardigan: Dorothy Perkins
Mulberry-inspired Alexa: Bagspace.sg
Sparkly Love Ring: A shop off Far East Plaza
Black Bow Shoes: Dorothy Perkins
Update:
As much as I love my Mulberry-inspired Alexa, the quality of the bag leaves much to be desired. After I wrote this post, I went back to admiring the bag which I owned for a grand total of 3 days since I received it in the post. Guess what? I discovered the bag literally fell apart! Besides missing a screw that holds the sides together for its compact look, the inline seams started fraying and split. Admittedly, I carry a good amount of things in my bag all contained within a bag organizer. It includes keys, phone, makeup pouch, compact camera, tissue, wet wipes, wallet, iPod, a pen and cardholder but I don't think the weight of all these should cause the bag to degenerate within a matter of 3 days. No bag had done so on me before and I don't think a bag designed to hold more things than that should. Pfft to you if you think I should treat my bag well and carry only the lightest of things like my phone, keys and wallet. If so, I don't need a bag in the first place. I will think thrice before buying a bag online again. I'm now determined to carry the bag enough before it falls into pieces right in front of my eyes!
Labels: Cakes, Food, Friday, Ice-Cream, Island Creamery, OOTD, Skinny Pizza, Wheelock Place