The Start of OOTD: OOTYD
OOTD: Outfit of the Day
I really am trying to dress a bit better for work just not to put the pretty things I have to waste. For those who don't know, I work in a really casual environment that almost everything goes as long as it is appropriate. However being 'appropriate' is really open to interpretation.
I have appeared at my job in shorts but rest assure, they are really shorts of a decent length (enough to cover my bum twice over suffice to say). We shouldn't appear in midrifts or see-throughs, none of which I am guilty of so I never really worry.
The thing is once you start getting casual, it's hard to get into the motion of bothering. It's way so much easier to roll out of the bed onto the wardrobe and pull out any 2 items as long as one is a top and another is a bottom. The want to coordinate started getting lost to me and the lovely pieces I've purchased pretty much only see their light of day when I know I am going out somewhere after work which is almost like never now.
I do feel slightly ashamed when there are impromptu meetups because I always look like I roll out of bed (of which I did but not aspiring to be) so this might be a good way for me to try dressing up a little again. Singapore is hot and humid so don't expect multiple layers and a whole lot of leggings and stockings although I wish I could fit in them because they are so fun!
Simple outfit from yesterday. FYI, I did put a
little
bit of thought into it, okay!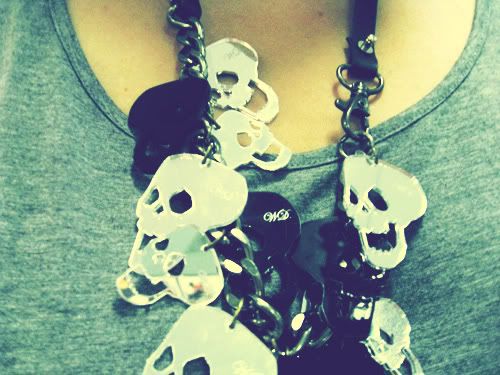 It is just a plain gray tee that I wore with my dark blue skinny jeans and a whole chunk of acrylic skulls necklace. I swear I love the tee so much that I bought multiples of each in different colours for fear they will run out. I also bought 2 of the same dark blue super skinny jeans because they look good surprisingly on me and are of utmost comfort. I am now seriously thinking of getting a third one. Yes, if you haven't noticed, I am quite the hoarder.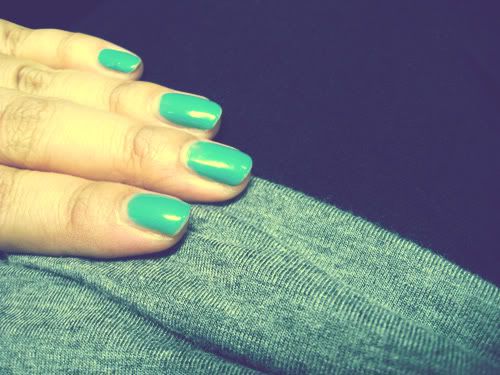 I love my greenish nails. It was easy to apply and it lasted into its second week despite the fact I suck at nail polish application.

Top: Cotton On
Bottom: Dorothy Perkins Super Skinny Jeans in Dark Blue
Necklace: Black Clover from Far East Plaza
Nail Polish: "Turntable" from L.A. Girl
Oh and in case you wonder, I will take full body shots someday but I haven't found anyone who won't laugh at me if I ask them to do the honour yet. My office is male-dominated.
Labels: Fashion, OOTD, Outfits