The New Evolution of Autumnal Tones
I hate shopping for Fashion in the autumn season because it means that my favourite London shopping haunts are going to be stocking up colours that fail to complement my very Asian skin tone.
You see, I am no China porcelain doll as often illustrated by China Chinese and Taiwanese. Instead, I belong to the half-fucked range of tan and yellow that I call 'sallow' and the yellows, oranges, browns only serve to make me look ghastly and if I may - lacklustre. In these colours, I feel my vibrant personality dulling and my face loses the sparkle. I am saddled by the choice of no choice and it is a horrible wait of a few months before the racks are once again, filled with the glitterati of an oncoming winter (read: Christmas) season. The baubles will then re-highlight my whole and lend their air of glamour to my fraying soul.
It kinda rhymes, doesn't it? The last line I mean.
So as I was going through the leftover sale rack from
GSS
at
Cotton On
, I came across a selection of bright-coloured tanks going for a fiver each. I just took 2, one in a azure shade of blue and the other in tangy orange. It then came across my mind like a wave of autumn inspiration that I don't have to be defined by the London autumn season. I can adopt my own autumn colours! Something that is not merely the colours of Spring/Summer but convincing enough to be 'Autumn' in nature (Truthfully it's not like people in Singapore is going to know. We are way too defined by our lack of seasons that we have the freedom to go spring/summer at any time of the year). The two tanks became perfect for revolving my autumn fashion around them. They are basics which mean they go with everything and are cool enough to withstand the heat and humidity of our weather and yet, when paired with the different outerwear that I am so fond of collecting, made them warm enough for the sudden torrential downpours that we have recently.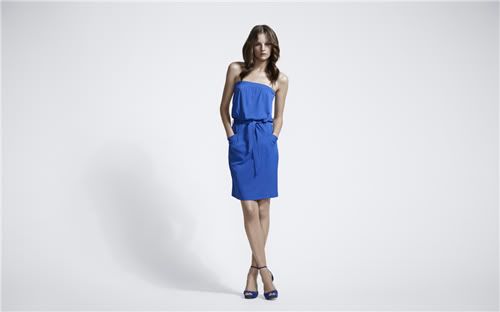 The original azure blue tone I am talking about
I'm going out in my azure blue tank tucked into my cobalt blue skirt and nicely wrapped in my drapey sweater tomorrow. Let's see how autumn I feel in them.

Never had the thing for blue all my life but re-looking and considering the possibilities, they look gorgeous!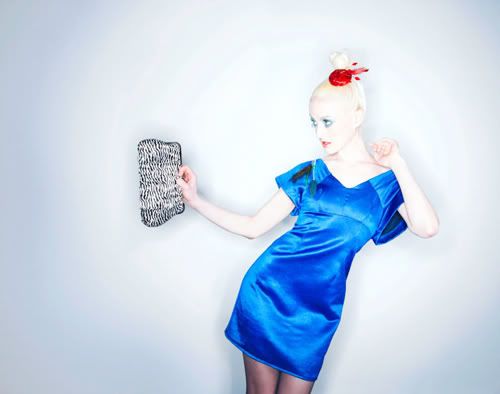 Picture from Anotherwordforpink
Some singer called "Lindsey Jones" has an album called Little Blue Dress. I need to listen to it. But isn't the blue dress against the backdrop amazing?
For those who don't know, Cotton On is this cheap outlet that sells basics ranging from streetwear, sleepwear to shoes and accessories.
Labels: Fashion