Dear Sumiko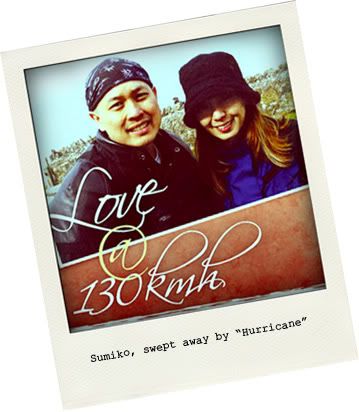 Singapore's very own celebrated version of
Carrie Bradshaw
has finally found her
Mister Big
at the age of 46.
Journalist,
Sumiko Tan
, editor of The Sunday Times and supervising editor of Life!, Urban, Mind Your Body and Digital Life reconnected with her Junior College crush, Hurricane, after 29 years and decided to take the plunge. Quoting her precise words
"I thought, oh, what the heck, you live only once. Grab the chance. Be bold. Take the plunge"
and that sealed the end of her singlehood. To be with her, Hurricane, is going to move back from home from Wales where he is currently an electrician and a chess teacher.
In 1980, they had one bad date and went their separate ways. He called when he was back studying from University of Canada but she had been curt. He sent her a birthday card, a Valentine's Day card and a love letter which she had found while going through the old things after they had reconnected. When he returned to Singapore last year to visit his family, he knew where she worked and gave her a call. They missed each other's calls a couple of times but finally, finally, they got in touch again.
They met up for a date. It was then, he had a flashback of how he felt about her the first time. He 'remembered her facial expressions and the tone of her voice'. And there it is, 30 years since that one disastrous movie date at Capitol and a milkshake, they are getting married next month.
Sumiko Tan's columns where she mainly wrote about joys and woes of singlehood, are popular with any woman who can relate to them. The fact that she is single and successful, encourages many single women of the same plight through their darkest nights and days because they know they are not alone. Sumiko Tan fears wrinkles! Sumiko Tan feels awkward with children. Sumiko Tan watches television alone on Saturday nights too!
Now Sumiko Tan finds her true love. Some single women who have had Sumiko's columns as a source of comfort may see it a form of betrayal but there will also be many others who are happy for her. The way I see it,
Carrie Bradshaw
is not real. She is a fictional character conjured by
Candace Bushnell
in the novel, made popular by Sarah Jessica Parker on the big screen. But Sumiko Tan, she IS real. She is the living and breathing hope of any woman who is still on the wait for a Mister Big and has the courage to discard her fears and tears the 'Single' tag off her resume.
From her, I hope that if ever the right one comes along and feels right, please do not be scared and take a step forwards because you'll never know where this step forward may bring you. It could bring you to heaven or to hell. Maybe you'll find a he who will drive you to the end of the world and back and you'll be contented in the ride but somewhere along the way if you regret, you can always follow the path back. However, if you do not even take the first step, you are always at square one. Take heart, my single friends. One day, we can all be Sumiko Tans.
I shall be telling this with a sigh
Somewhere ages and ages hence:
Two roads diverged in a wood, and I—
I took the one less traveled by,
And that has made all the difference.


- Robert Frost, "The Road Not Taken"
Labels: Singlehood