Saturday + Sweater Guards
Ever since the popularity of the tv series,
Glee
, skyrocketed, so did the number of fashion eagle eyes who quickly drank in the old school fashion of
Emma Pillsbury
with her colourful cardigans, trimmed skirts, peter pan-collared white blouses and most of all, brought a huge comeback of vintage sweater guards and big enamel brooches.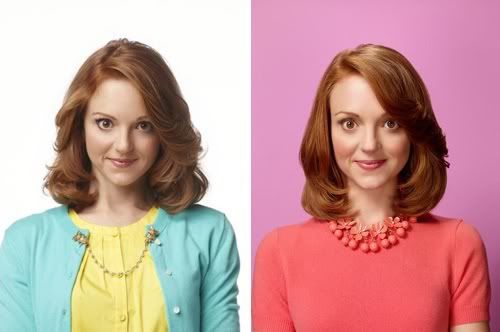 To be truthful, I found Emma's fashion sense appeal to me wildly particularly because I am a little of an anglophile and I imagine Emma's fashion to be very wearable in a cute little country house, serving high tea on checkered tableclothes.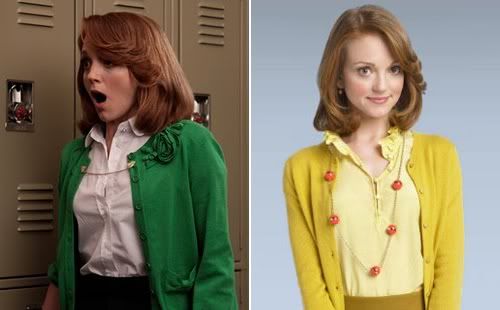 Also, Emma's fashion sense makes it easy for me since I possibly hold a collection of quaint cardigans in every possible cut and colour. I am a fan of bright cardigans because I find them particularly effective in brightening up my sallow skin colour and uplifting a dreary mood.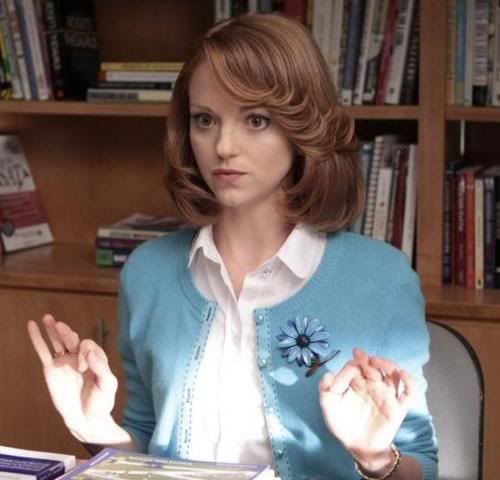 Some of the bloggers I secretly admire e.g. Lilli of "
Frocks & Frou Frou
" and Emily of "
Some Girls Wander By Mistake
" wear their vintage sweater guards with such style that the idea of wearing one grew on me and the idea flourished quite obsessively in my head.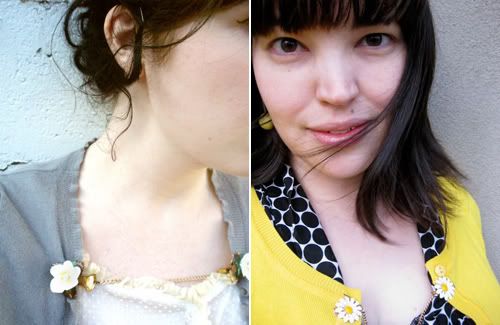 Emily on the left, Lilli on the right. Pictures taken from their blogs.
No one in my family of three (which really includes my parents and I) are old enough to possess any vintage sweater guards. My father definitely had none because it would make me glassy-eyed if he even knew what a sweater is! My mother had some dresses made by her sister when she was young but being always warm in Asian countries, sweaters were not as popular as lightweight chiffon dresses in the 70s so again, no sweater guards. I trawled etsy and eBay and found some nice ones but they were always too expensive inclusive of shipping. I tried to bid for a pair but was deterred as the prices started steeping.
I stepped into Beads Passion at Far East Plaza a few days ago to buy a plier set since I always try to repair my accessories that fell apart. My eyes fell onto a pair of resin daisies which look a lot like what Lilli from "
Frocks & Frou Frou
" had, except hers were in enamel and way nicer. It struck on me that I was at the right place, at a right time (when I wanted sweater guards) and I could make them with the right materials. I tried describing what a sweater clip was to the proprietor. She was very helpful but didn't carry the clips that would be suitable. She did introduce me some brooch pins and even though ideally I would much prefer to have clip-ons for convenience, I caved in and decided to do an experimental pair. I chose goldtone chain and gold brooch pins to go with the yellow of the daisies and bought a tube of industrial strength E6000 glue under the proprietor's directive because she said it's better than superglue if we're going to make our own jewellery. Since I bought all the essentials needed to make the first pair of sweater guards, I also chose a peachy pink pair of daisies to make a second pair just to make all these purchases justified.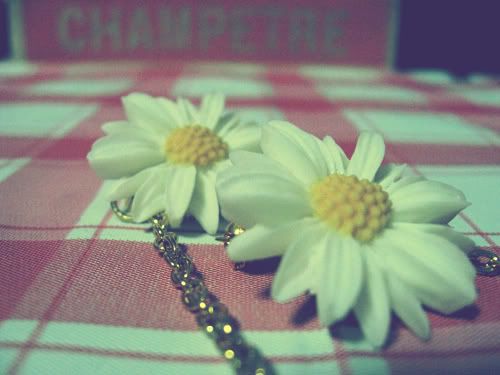 What you need to make sweater guards:
1. 2 brooch pins
- SGD1.60 each
2. silver or goldtone chains
- a quarter of a metre at SGD1.00
3. E6000 industrial strength glue -
SGD6.90 per 14.8 ml
4. 2 goldtone jump rings
- comes in a pack of many at SGD0.90
5. A pair of resin daisies or cameos or anything that catches your fancy and are big enough
- SGD4.20
Total cost = SGD8.40 (not including the glue and jump rings)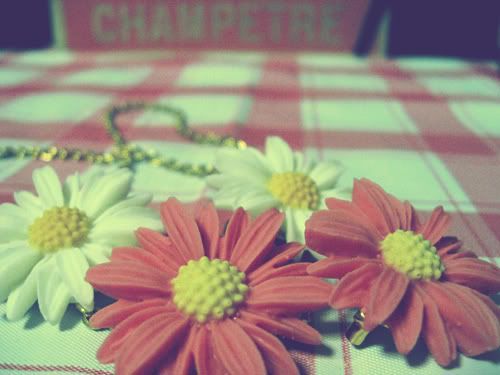 I tried the white pair of some cardigans that I had and I love how it looked on them. I think I am going to wear them tomorrow to start off my Monday with a happy daisy note.
Saturday was very well-spent. I got the materials for the sweater guards with my friend, Greta, when we were supposed to be really shopping for her purse and in the process of me picking up loads of supplies, I also inspired her to pick up her own. We started off making some simple victorian-inspired accessories in the KTV room, singing and gluing at sporadic timing that left the only man in the trio, Freddy, amused by our effort. The results were very satisfying. Greta left the KTV session with 2 new cameo necklaces, 3 cameo rings and 2 pairs of sparkly rose earrings. We followed up with a sumptuous Korean meal under Freddy's recommendation at
Su Korean Cuisine
and chit-chatted at
The Coffee Connoisseur
for hours.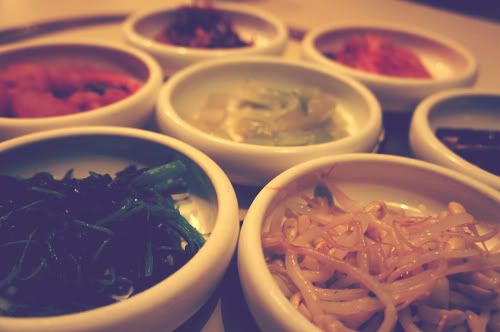 Typical Korean side dishes but the beansprouts, anchovies, celery and spinach were so tasty, we had dish after dish and they are refillable!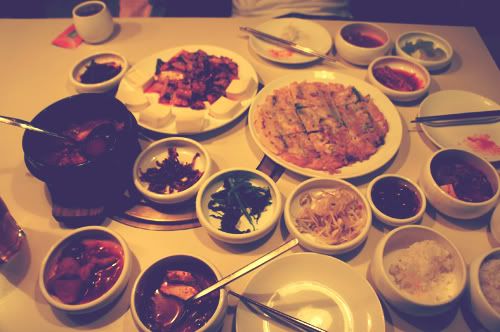 The Kimchi soup is so flavourful, I'm thinking when next to go back.
Labels: DIY, Emma Pillsbury, Fashion, Food, Glee, Korean, Sweater Clips, Sweater Guards, Vintage