OOTD: Deepavali
I've been sick which is not a good thing of course. The virus had been circulating the office and infected the Boy and some of my coworkers. Even though I took my precautionary Vitamin C, it was apparently not enough to stop me from being infected too. I had plenty of rest over the weekend and felt a little better.
I have a total of about 3 denim pieces in my wardrobe, not including the jeans of course. We've seen one
here
and this is the second piece - a denim biker jacket which I bought from my last trip to Bangkok. I was attracted to it the moment I saw it displayed on a large-sized mannequin. First point of attraction, it is large which means
I can wear it
! Second, it has the graduated denim tone which I like. Third, it has three-quarter sleeves so it's wearable in Singapore.
I've seen plenty of people with the likes of Nicole Ritchie, Kylie Minogue, Rachel Bilson looking great by casually throwing a piece of denim on their back over dresses, teeshirts, jumpsuits.
Victoire J's look in Lookbook.nu. I am very taken with the colour of her denim jacket paired with her nude/pink colour dress.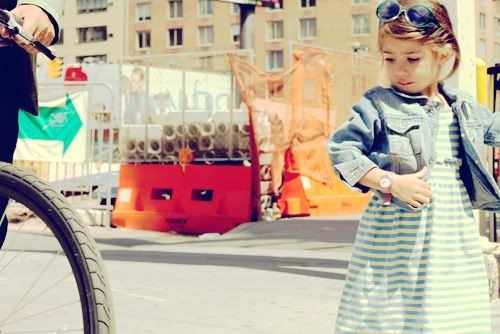 Since little girls can look downright chic in the denim jacket so I figured why not me?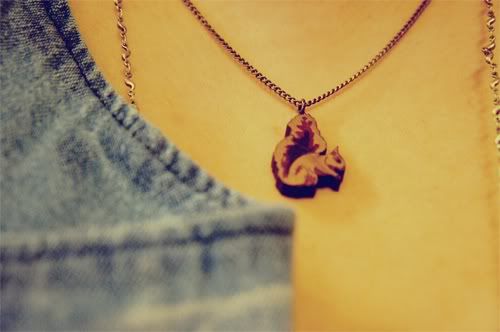 This necklace has a name - Mola. It is named after a friend's pet squirrel who went crazy.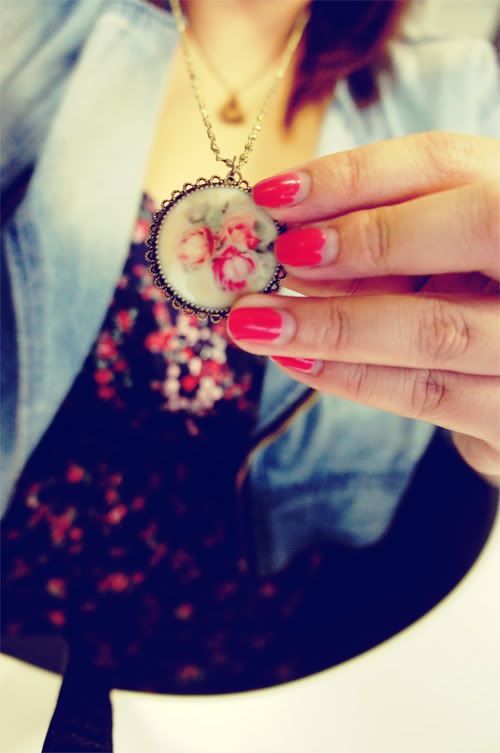 There is something about lockets which can be opened to reveal a past, closed to hide secrets and kept near to the heart. I want to put my parents' pictures inside once I found some suitable ones.
I first heard of
Tatty Devine
via an online accessories boutique, L'artichaut, which is now sadly defunct. Ever since then, it had been a prolonged love-hate relationship. If you are a fan of kitsch, then you would be enamoured by
Tatty Devine
which is an online kitschy heaven upon itself. Even though L'artichaut is no longer in operation, we can still find some pieces lurking in the Zouk boutique in Singapore for those who are interested and not too drunk to look (Zouk is a wildly popular club in Singapore) but the price could be pretty steep for those subjected to currency conversion like me. I would love to own a few of their Autumn/Winter 2010 which is inspired by "women who set the world alight".
My Tatty Devine Picks of the A/W 2010 Season: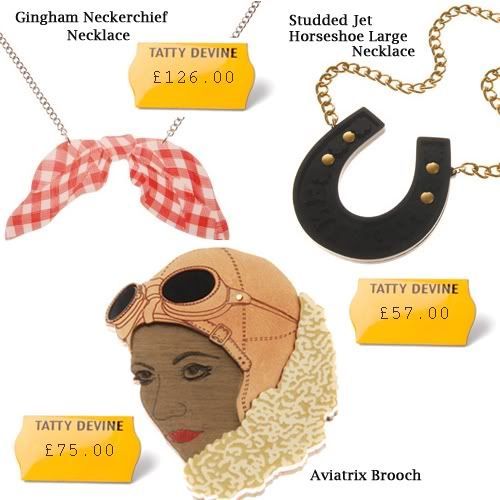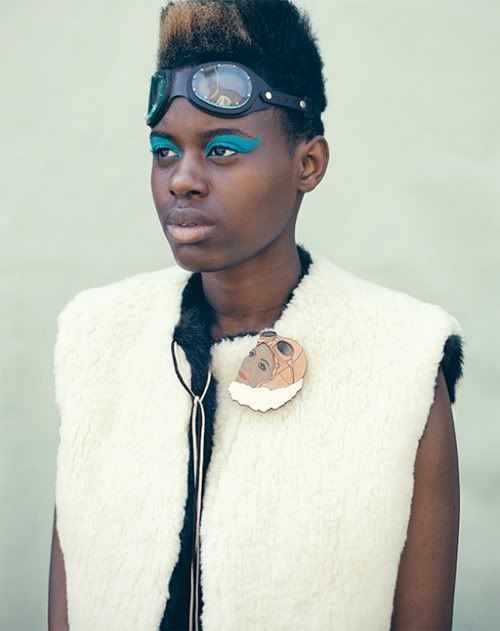 Aviatrix Brooch in cream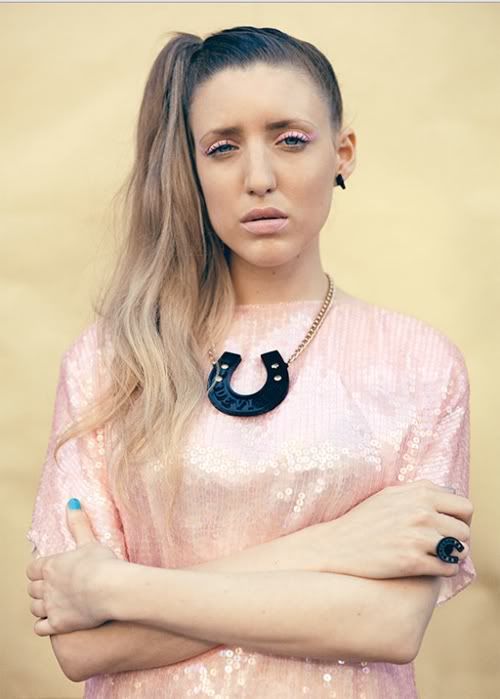 Studded Jet Horseshoe Large Necklace
Gingham Neckerchief Necklace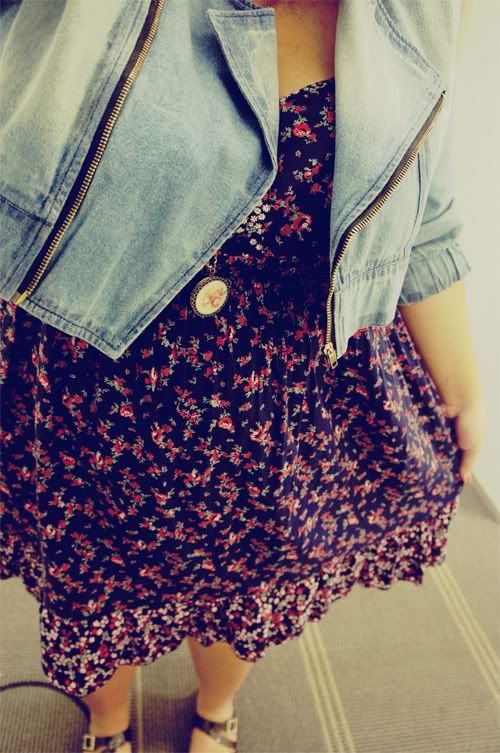 I also want to show you a random meal that the Boy and I both enjoy on a regular basis - Butter Naan and Butter Chicken Curry.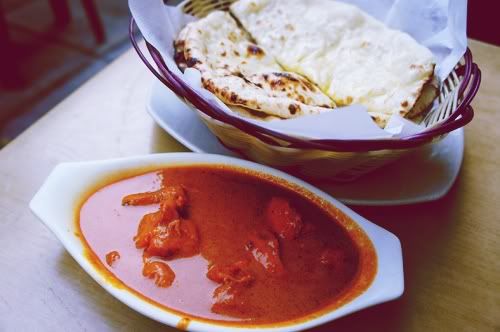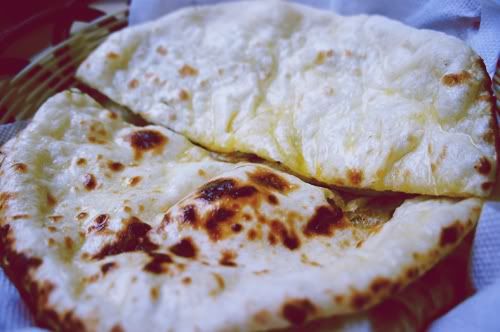 Denim Biker Jacket: ZoZe from Bangkok
Floral Dress: Dorothy Perkins
Wooden Squirrel Necklace: Tatty Devine
Vintage-inspired Locket Necklace: Pull & Bear
Shoes: Birkenstocks
Labels: Aviatrix, Biker, Brooches, Curry, Denim, Dresses, Fashion, Floral, Food, Jacket, Naan, Necklaces, OOTD, Outfits, Tatty Devine