OOTD: Eyeing Something
Everyone must surely have a day they lack in inspiration. Sometimes I just throw on a teeshirt and jeans combination but mostly I ransack my wardrobe to see what lies forgotten and try to make it work.
Our object of affection today is a peach eyelet top bought earlier this year but have never seen the light of day.
I could wear it backwards. The button details are quite lovely and there's a diamante flower button to top it off.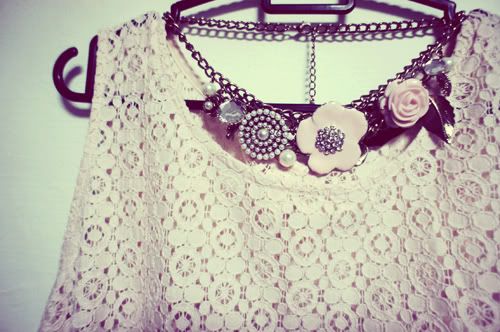 My first thought was grabbing this bib necklace off my table. The necklace is new, bought only two days ago and meant to be part of an ensemble that I am going to wear to a wedding later this year. Isn't the necklace beautiful? I fell in love with it the moment I saw it on the mannequin. I think the necklace matches the peach eyelet top quite perfectly .... except it looks more appropriate for a tea party or another wedding event I've been invited to than for work.
I switched the "Wedding Necklace" out for a plastic white bow necklace. It's more casual but ... I'm not liking it. Something is missing ...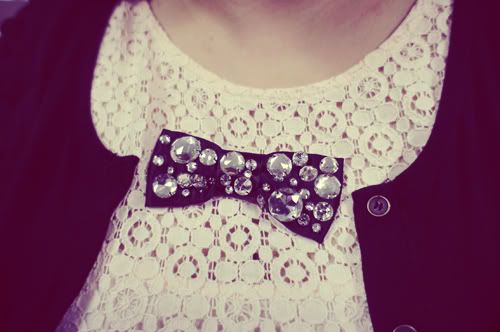 The final choice boiled down to .. THIS! A black bow stitched with gems is much more contrasting with the pale peach colour and plus it has blings. Anything with blings ace in my opinion.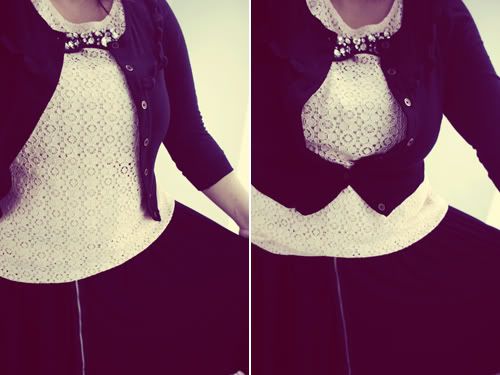 I did wish I wore it with a plain black skirt instead of a zipped one but it's okay, I get to try styling it again the next time!
Pale Peach Eyelet Top: Dorothy Perkins Size 20
3/4 Cropped-Sleeved Black Cardigan with Scallop Frills: Zara
Black Zipped Skirt: Elle 1X, bought cheap in Bangkok
Pretty Bib Necklace: Forever21
White Plastic Bow Necklace: Sampeng market in Bangkok
Black Bow brooch stitched with gems: Gifted (from Korea)

Labels: Bangkok, Brooches, Dorothy Perkins, Eyelet, Forever21, OOTD, Outfits, Peach, Zara