OOTD: The Leopard Within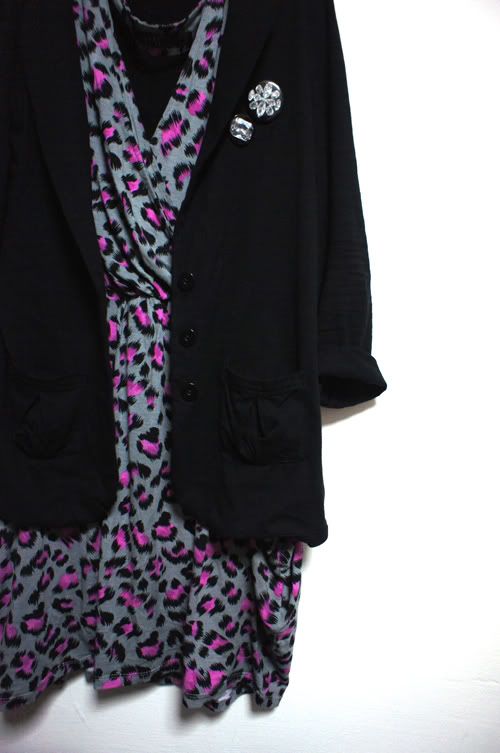 The Boy took one look at my dress and laughed. "How weird! A pink leopard!" he giggled.
This was easily one of my best and most unexpected finds (of 2009). I bought it about this time last Christmas and when everywhere was on sale.
bYSI
occasionally carries large-fitting pieces that I can slip in but most of the time, they carry till about a size 14. My other friends being size 14 and less wandered into the store which was having a megasale and I just flipped through the racks and found the dress. As always, the first thing I do in a shop which doesn't carry clothing my size is to look for either an XL or a L. I then tried to test the material with my hands, stretching it to see if it can remotely go around me. When I ascertained the possibility, I will then carry it to the dressing room. Viola! It fits me and the drapey front means that I get to hide my tummy.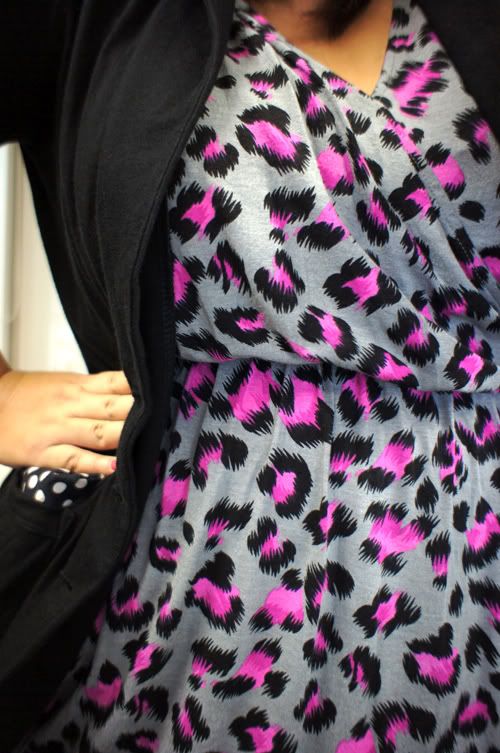 The dress only cost SGD15 which is maybe like a USD10.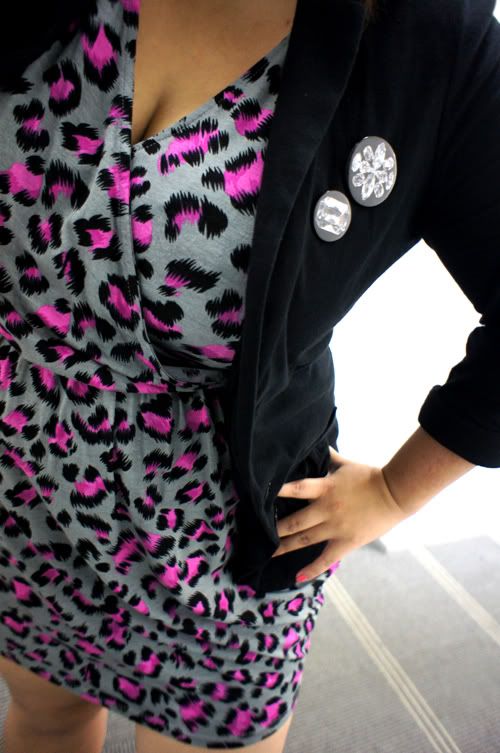 The black blazer is made from cotton and is a UK16 from
Miss Selfridge
. I hardly fit into any blazer at all because either the boobs or tummy are my obstacles. Since this is cotton, it means that it is
a little
stretchy. It would have been better with a UK18 but Miss Selfridge in Singapore does not carry up to 18.
The brooches come in a set of 3 and have gemstones printings on them. I am pretty sure I got them from H&M. This is the first time I've used them on any garment because either I forget I have them or I don't want to spoil the garment with pinholes.
Leopard-print Dress: bYSI
Cotton Blazer: Miss Selfridge
Brooches: H&M somewhere else in the world
Labels: bYSI, Dresses, Fashion, Leopard, Miss Selfridge, OOTD, Outfits, Prints