OOTD: Riverdance
A few days ago, the Boy and I went to
Riverdance
at
Marina Bay Sands Theatre
. The Boy really had a fascination with
Riverdance
, we booked tickets the moment they were released and he had been looking forward to the day ever since.
The problem with most Singaporeans is that because of our warm climate and high humidity level, people tend to dress for comfort. But because of this very same reason, comfort doesn't necessarily equate fashion or formal. It is common to find people going for musicals, concert performances and even wedding dinners in jeans and flip-flops. There is nothing wrong with jeans but it would be lovely to see everybody dress up as an effort. Now you may ask,
why should we dress up?
For some, being 'clean' is their best but personally my heart tells me that wearing my best is showing the person his/her value to me plus I feel really good about myself. The church-goers wear their "Sunday Best" to show God what he means to them so why wouldn't we do the same to the artistes we respect, the dancers we admire and the people we love during an important day of their lives?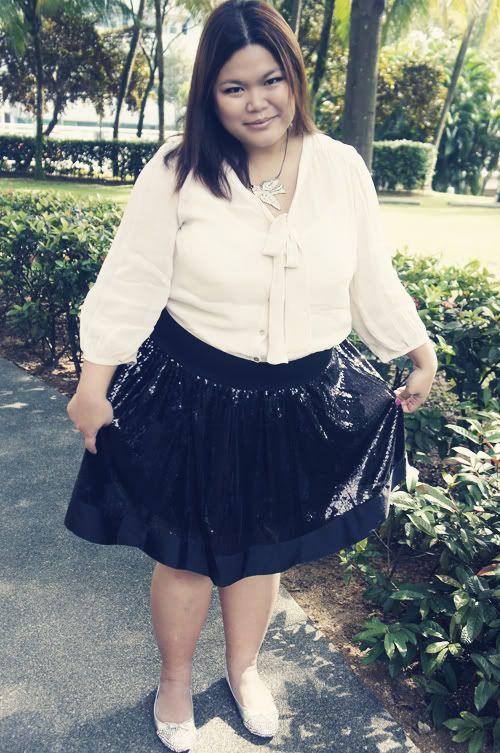 Usually I have an occasional splatter of sparkle somewhere around me. It could be a shiny ring, a dazzling necklace,
a sparky scarf
, a glistening pair of earrings but you know that when I attempt to bring them out all together, this is serious. I want to shine!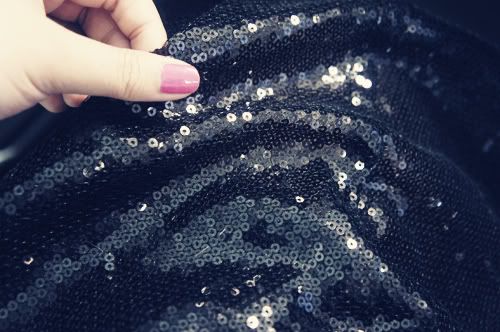 Verdict for Forever21+ Sequin Skirt:
I felt lovely that day even though there were a few mishaps. If you don't already know, the more sequins I have on me, the more empowered I am by them. My mother thought I looked sparkly, colleagues thought I looked pretty and I am sure I walked with a skip in every step that day. One of the mishaps was that this skirt is generously adorned with sequins which is
also
a good thing but I have to say that many a time, I rubbed my arm full across it and had gotten many scratches as a result. In fact when the day was over, I looked like a self-mutilating victim but that won't stop me from wanting to own the skirt!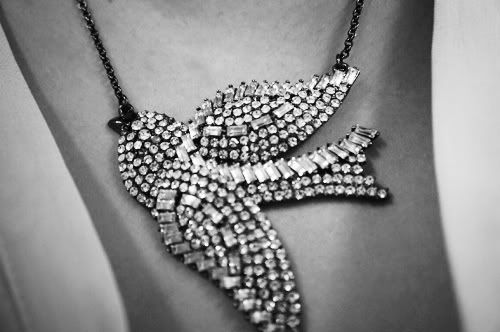 One of my favourite recent acquisitions. A stranger who was queuing up to buy fruit juice with me told me she thought it was dazzling.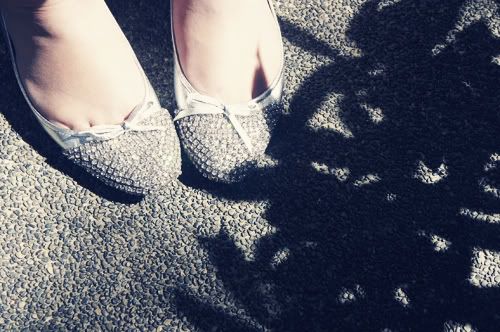 Chloe
had the same pair in a rose gold tone. I've seen this around for maybe a year but everytime I asked to try, they didn't have my size. There is another pair in a pewter tone which is a darker shade of gray. This is the silver colour which they made by request of many pleading customers. I had 2 weddings to attend to this month and I am tired of my feet hurting like hell in heels so am very glad to procure a pair of flats as such which twinkles like the stars. What could go wrong went wrong with the shoes though. I kicked a kerb and I could feel my heart breaking when I saw a few diamantes roll out. The claws of the diamantes also did not react favourably to carpeted floors. They kept getting caught in the carpet but I still love them very much.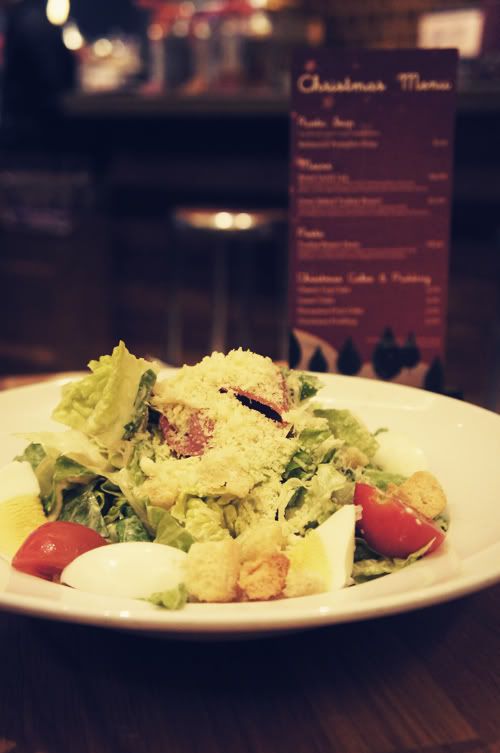 Dinner at Coffee Bean & Tea Leaf Cafe at Marina Bay Sands before Riverdance. The Boy had the Caesar Salad.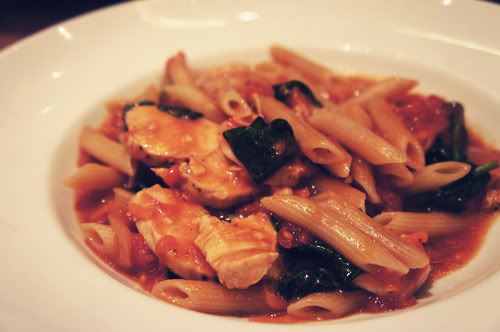 I had the roast chicken with spinach pasta.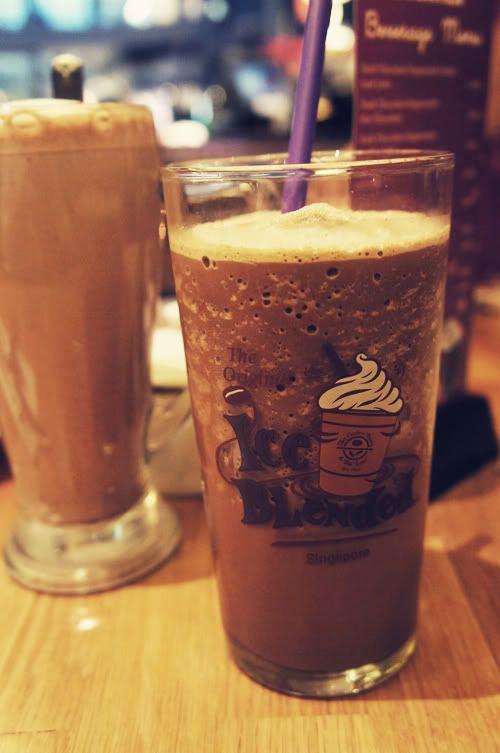 My favourite drink that comes only once a year - the Dark Chocolate Peppermint Mocha.
During the Riverdance performance, I was resisting the urge to tap my feet heavily and leap onto the stage. The dance spirit is so infectious! The dancers looked like they are genuinely having a good time. I am very impressed with the passion that the male lead dancer,
Padriac Moyles
displayed. There was fire in his eyes and a surety in his steps that only the most experienced and confident could reveal. There was a piece of instrumental music performed on the Uilleann pipes which is incredibly heartwrenching and powerful - Caoineadh Cú Chulainn.
The Riverdance Crew recorded their highest performance ever at the Marina Bay Sands SkyPark, 200 metres above ground. They are applying to have this feat recognised by Guinness World Records as a performance on the highest stage in the world. (
source
)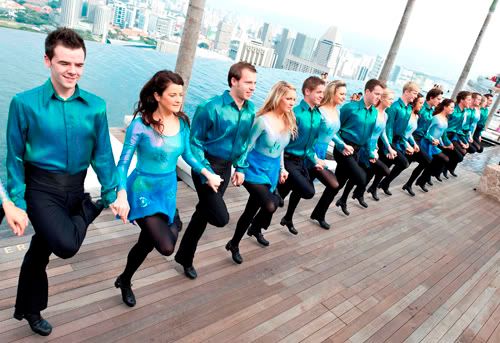 I thought their costumes blended perfectly into the blue of the swimming pool and background.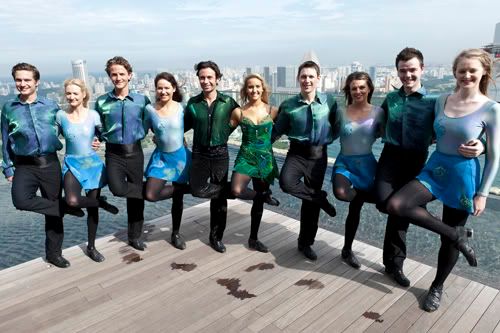 Bows for Forever21+ Sequin Skirt

Pussybow Blouse: New Look
Sequin Skirt: Forever21+
Bird Necklace: Forever21
Shoes: Pazzion
Labels: Blouses, Bowdicts, Caoineadh Cú Chulainn, Coffee Bean and Tea Leaf, Faith21, Forever21+, New Look, OOTD, Outfits, Pazzion, Pussybow, Reviews, Riverdance, Sequins, Skirts