OOTD: Pottering Around
I set the camera on a 10 seconds mode and posed outside the apartment when I've double checked that there was no one around but it couldn't focus. A pity.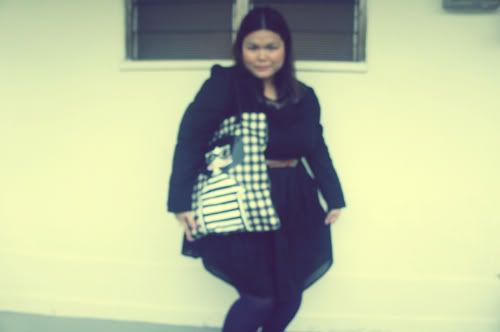 It was Sunday and I was going to catch Harry Potter and the Deathly Hallows so I wore the
ASOS CURVE Cotton Crochet Trim Chick Dress
. I was going to keep it for another night out. I have this habit of squirreling dresses away in the event that something major comes along, it wouldn't catch me unaware and in a frenzy to buy clothes but the "major" event never really did occur. I do have a stock of skirts and dresses which I can just easily extricate from the recesses of my wardrobe. I knew I had to have the bag when I spied it in a shop in Suan Lum Night Bazaar, Bangkok. The workmanship is good, the colours are easy to match, it is waterproof but I cannot be certain that it is the real deal. The price was pretty steep but still far lesser than the original.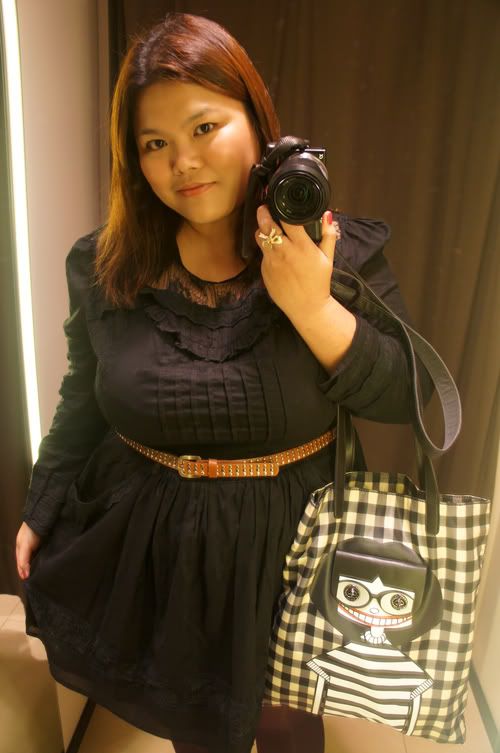 I am very pleased with this set of outfit pictures because I made use of Zara's bright double-mirror dressing room and I took the pictures myself. I was never comfortable with outdoor outfit poses but once left alone in the dressing room, that's when I come alive.
Verdict for
ASOS Curve Cotton Crochet Trim Chick Dress
:
I am a size 20/22 by Dorothy Perkins standard and don't really know what size to order from ASOS as this is the first time but I figured that to be able to wear them is better than to wear them tightly or feel awkward or not able to wear them at all! This is a wonderful dress in terms of length. It ended nicely on my knees and has two front pockets which I love resting my hands and keeping my phone in. It had a elastic waistband so this dress felt larger on me and I am certain I could probably fit nicely into size 20 but it doesn't bother me. If the waist is too big, I'll belt it. The one grouse I do have is the sleeves, they are kinda too big and tends to flap around which I don't like but I could live with it although I also have this fear of dipping my sleeves into soup. I am also very afraid of catching the lace details around the neckline on my bag or accidentally tear it with my nails. I am very accident-prone that way.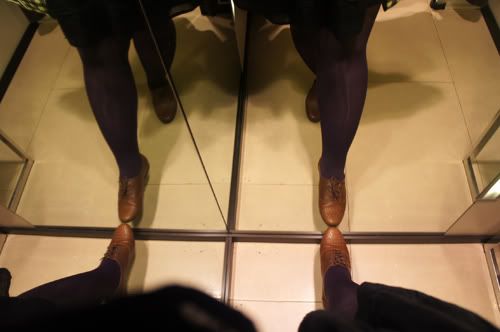 This is also my first time in tights. I never could find tights to fit me. Not in Marks & Spencer or anywhere else so when
Dorothy Perkins
started carrying them in varied jewelled tones, I was excited. I even had doubles of the black and grey but the annoying thing is that for a plus size retailer, their tights only go up to XL (equivalent of a size 18) so I spent a very irritating rest of the day discreetly trying to stop it from rolling down my hips and landing in a pool on the floor. The quality of the tights are also quite good because all the tugging and rubbing haven't left any holes in them yet
but
I could jolly well do a larger size please. Would I wear them again? I have to because I have a few pairs but I would be sure to wear them beneath shorts or bicycle shorts to stop their descending journey.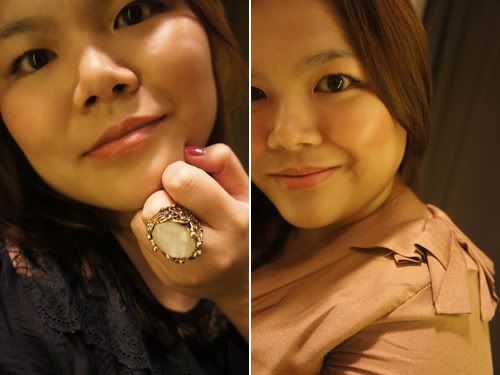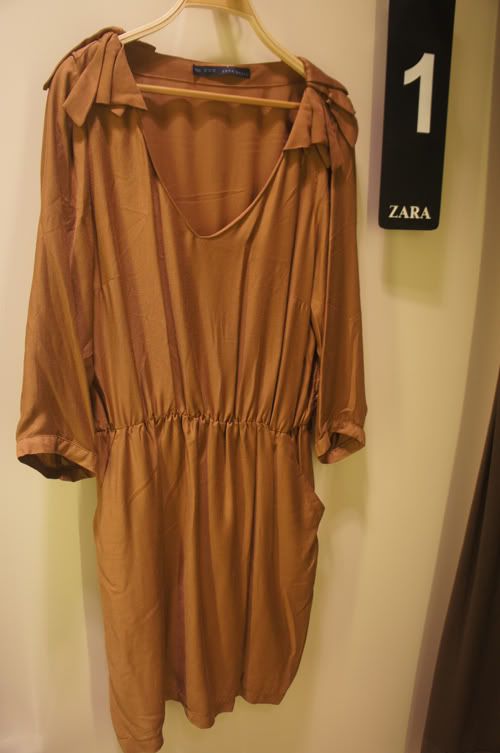 Zara
has some great stuff and their
Winter collection
is droolworthy but to stop my revolving eye (I overspent at
Forever21
,
ASOS
and
New Look
), I grabbed this camel tone dress (it was standing in my way) and made a beeline for the dressing room. I like the soft fabric, the shoulder details and the warm camel colour but do not like the way it hugged my tummy with passion and the length so it was a definite no.
Bows for
ASOS Curve Cotton Crochet Trim Chick Dress

Cotton Crochet Trim Chick Dress: ASOS Curve
Purple Tights: Dorothy Perkins
Studded Brogues: "Your Feet Look Gorgeous" range from New Look
Ring: Topshop
Bag: Marc by Marc Jacobs (authenticity unclear)
Studded Belt: Dorothy Perkins
Labels: ASOS Curve, Bowdicts, Crochet Trim, Dorothy Perkins, Dresses, Lace, New Look, OOTD, Outfits, Reviews, Topshop, Your Feet Look Gorgeous, Zara