Out Of The (Makeup) Box Part 1
For most part, none of you had seen me extensively putting stuff or drawing on my face, eyes etc. That is because I wake up at 0530 everyday and had to be at work by 0700. There is simply no time for me to arrange my hair or do my face without being late so most of the time, I just try to look a little less scary at work before the boss steps in. If I have a choice, I'll love to look perfectly coiffed and well put-together but since I haven't mastered the art of sleeping early at all, my face will have to remain relatively bare during workdays.
But still, I love reading blog posts regarding what people use, what people put in their bags, what people have in their makeup bags, how others' apartments look like because I am a secret voyeur at heart! These are the makeup products that I am using the most frequently right now, very subjected to changes.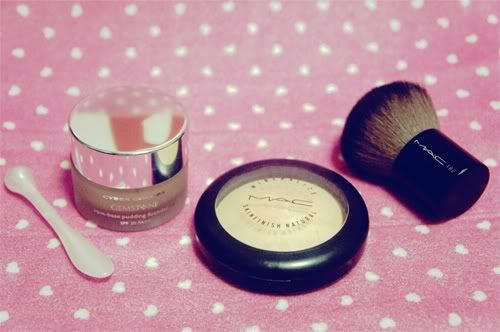 L to R: Cyber Colours Gemstone Foundation in 02, M.A.C Mineralize Skinfinish Natural in Light Medium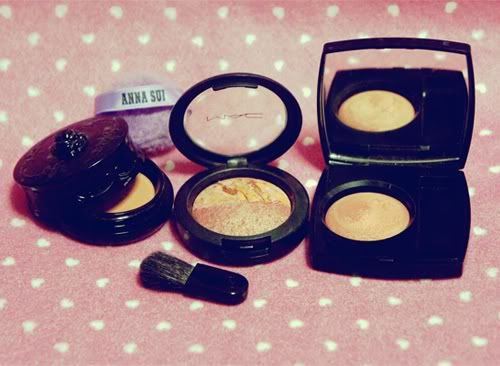 L to R: Anna Sui Face Colour in 501, M.A.C Mineralize Blush (Intenso), Chanel Powder Blush (55 In Love)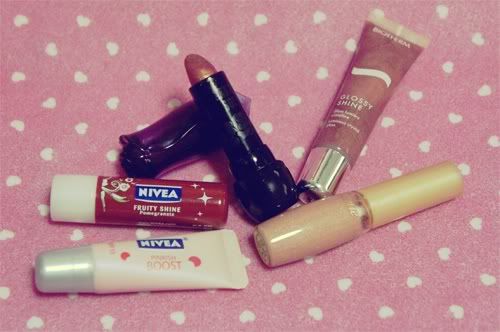 L to R: Nivea Pinkish Boost Lip Balm, Nivea Fruity Shine in Pomegranate, Anna Sui Rouge in 570, Biotherm Glossy Shine in 110, Sony CP SonCurvy Lip Silicone in 503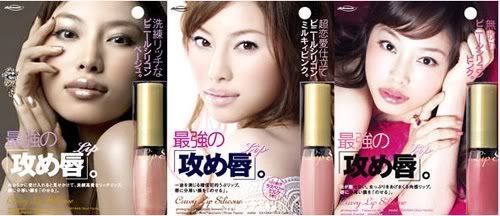 Sony CP Curvy Lip Silicone is a Japanese brand selling lipglosses which give you the pouty, full lips you desire. They are seriously amazing albeit a little sticky but sometimes in order to look good, you just have to suck it up!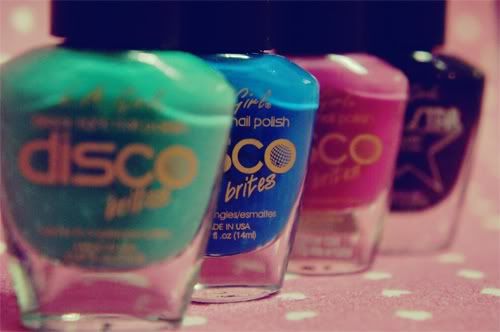 L to R: L.A. Girl Disco Brites Turntable (NL88), Deejay (NL91), Rock n Roll (NL84), L.A. Girl Rock Star Groupie (132)
These L.A. Girl Nail Laquer are my new favourites. It just takes one coat for me to get the desired colour I want, easy to apply and supposedly they are infused with diamond powder to make it more long-lasting and it works! I am quite lazy and I often let the nails grow out till I put my mind to change the colours.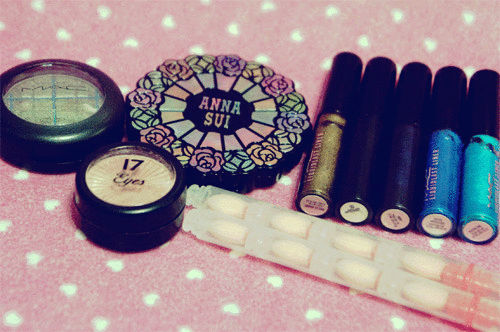 L to R: Boots No. 17 Eyes in Funfair, M.A.C Glamora Castle, Anna Sui Eye Colour Duo in 06, M.A.C LiquidLast Liner in Dress Khaki, Point Black, Inkspill, Blue Verizon and Aqualine and Sasa applicators
I have had many a trial with eyeliners. Smudge-free eyeliners to be precise. You see, in Singapore, it is warm and humid and so the eyeliners disappear into my oily creases faster than I can say "What the fuck?". My upper eyelid has this layer of excess skin that covers onto my lash line which means I need a whole lot of eyeshadow and liner to allow them to be seen. The other option is to close my eyes. More often than not, the eyeliners smudged badly, making me look like a woe-begone panda but of course that is until I found M.A.C LiquidLast Liners. They have claimed that it is "industrial strength" and they are not wrong. No amount of water, tugging and rubbing will get them off. It must be removed using eye makeup remover. I hope they never retire this product because my defined eyes are in their hands.
Watching Harry Potter and the Deathly Hallows Part 1 in a bit so catch you later!
Labels: Anna Sui, Blushers, Chanel, Eyeshadows, Foundation, LiquidLast, M.A.C, Makeup, Skinfinish