Fashion Resolutions 2011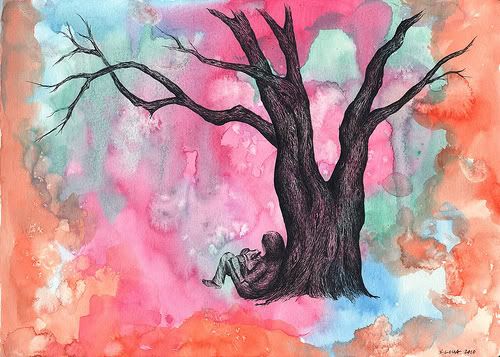 Image found on flickr by steev-o.
I am a fan of resolutions, even if it means that I don't get to keep them often because of my many excuses, procrastination and weak willpower. You may ask, "
What's the point of making resolutions then if you do not commit to fulfill them?
" Simple. Wanting to make resolutions show that I have a sense of yearning to want to better the year ahead of me. I still look forward to the future. There are still things that inspire me. It states the things I would like to do, to work towards even if it doesn't necessarily complete. Wanting to make resolutions or not is entirely a choice but personally, I find that when I have a list of resolutions all carefully thought out, it helps my mind to process what is important to me the following year and I am on the right track to the next on a pretty great start.
I have chewed through some personal resolutions for the next year but for now I am going to list my fashion resolutions for the year of 2011. I never had a list of fashion resolutions and this is the first and I'll like to share it with you. The resolutions are made based on certain intentions and I'll explain after I've finished listing them!

1. Buy only garments in which I see the possibility of wearing more ways than once, twice or thrice! If I don't immediately think of three separate ways I can visualize on how to remix the garment interestingly and differently, I'll re-consider buying it.

2. I intend to do an epic wardrobe overhaul. Sell, Sell, Sell the things that don't fit or which I don't want to keep. If possible, donate the things that I can't sell.

3. Alter things to fit, do not live with it!

4. Define key classic pieces I'll love to own for a long period of time and then choose carefully to pick out the best even if it means biting the bullet to spend more for quality.

5. Let's just wait out for the sales, shall we?

6. I shall walk more into the brick and mortar stores to try outfits. I shall not keep obsessing over ASOS Curve or any other online shops for that matter and attempt to buy the whole store down.

7. I will attempt to read more hair tutorials on how to put up hairstyles instead of sticking to the same straight hair.
.....
Okay, you are talking to someone who possibly has one of the most extensive wardrobes
I've known
from people around me. I am a self-confessed shopaholic and hoarder. I bet you that I can find fashion choices I've made lurking in the deep recesses of my wardrobe from 10 years ago. I've had almost every impractical category of items you can think of which I will never use in a million years, not in the country I stay, not in the place I live. I've a selection of coloured berets (Singapore, berets?), a boxful of fascinators and hairbands in varying sizes, thickness and designs. I've a good collection of scarfs which I collected and never worn because it is again, Singapore. I could easily name 20 pieces in my wardrobe now that I've never worn. I don't think that's all to the skeletons in my closet and I am not proud of it. It is a complete waste of good money but it made sense then to a girl who was (and sometimes still is) insecure about her weight, her lack of confidence and her limitation of fashion choices a long time ago over the span of years. When one of my close school friends wanted to get married about seven years ago, she picked out a theme colour of pink for the girls to wear for the evening reception. I scoured every nook and corner of shops that carried clothing in a state of panic. If I spot a pink dress and it didn't fit me quite as well as I hoped it would, I would still buy it because I never know if I would be able to find another that I would fit and just like that, I'll end up with multiples of something I don't quite need, don't quite love but yet unable to give up.
I just didn't want to be the only girl who couldn't participate in the pink theme because I couldn't find something that fits.
The wardrobe is now bursting full and more than half of that I've stopped wearing so I want to really gather the clothes bit by bit and find other fashion lovers who would love to wear the heck out of them and undeniably, it would be a relief to know that I can open up the wardrobe doors without fearing an avalanche. I've decided to use eBay as my avenue seeing that's the only way I know how. We don't have thrift shops here who will take care of our pre-loved clothes and sell them to eager owners so that's one option down. I've also found that charity here who'll take in our clothes handle them poorly, leaving bags of donated clothing, toys out in the rain so I am not sure about the option of donation. I'll sell whatever I can and think about how best to handle the rest later.
When I say "
key classic pieces
" in resolution point 4, I really mean investment pieces that I would wear over and over again and not want to have it disintegrate on me during the first couple of washes. I used to value quantity over quality but because I've been trying to shrink my wardrobe and I would like to have a efficient, functional wardrobe which would allow me to pick anything out of it and have me look great instantly. I have some idea but still await refining and mulling over whether it is just a fad or if it will carry me through the ages. I know for sure that I would like to have a well-fitted boyfriend blazer with a flattering cut. It is an old trend now but I envisage that years down the road, I still wouldn't mind being caught in a boyfriend blazer because I like it
that
much. Some other investment pieces include a pair of ballet pumps
(I wear my ballet pumps to death!)
, a cardigan with embellished shoulders, a skinny belt in quality leather in tan and a pencil skirt which I think the
ASOS CURVE Bengaline Tab Front Pencil Skirt
could fit the bill for now.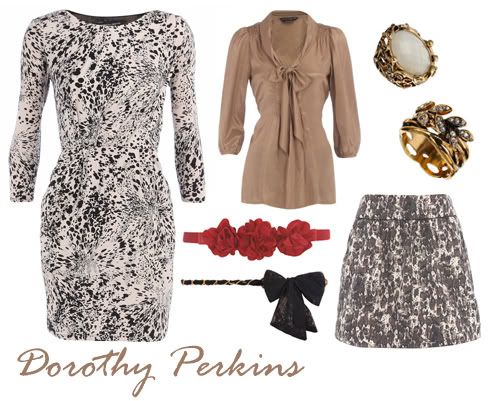 The last of my 2010 Dorothy Perkins haul
I've recently walked into a brick and mortar
Dorothy Perkins
store after hauling myself out of the computer seat after months to actually go try clothes. In the end, I came away with a beautiful Camel Pussybow Blouse in size 18 which fitted perfectly, a size 20 White Smudge Pleat Dress with a perfect shape and a size 20 Animal Print Skirt which I definitely wouldn't have bought online not knowing if it will fit. The pros of walking into a brick and mortar is the luxury to try anything till you find the size that fits no matter how incredulous but I've also found that the pricing of clothes in the brick and mortar Dorothy Perkins store seems to have gone up since my last visit. What was originally £35.00 online is £47.00 at the shop so I won't be doing this all too often.
To end off, I'll like to know if you have thought about making any fashion resolutions and what they are. Share them with me, I would so love to know!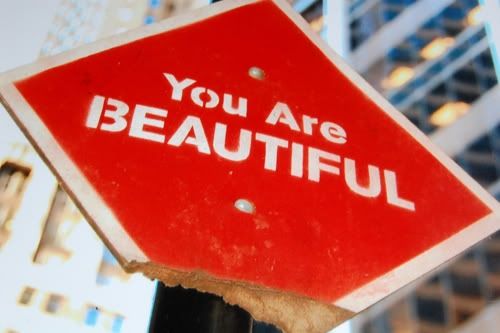 Image found from Google images and I know it's from etsy. Just couldn't find the owner!
Labels: 2011, ASOS Curve, Dorothy Perkins, Fashion, New Year, Resolutions