OOTD: Camel Tone
Thank you to those who gave me ideas on what to wear for 80s. I am
appalled
you guys asked me to look like Cyndi Lauper!
How the hell am I going to achieve that?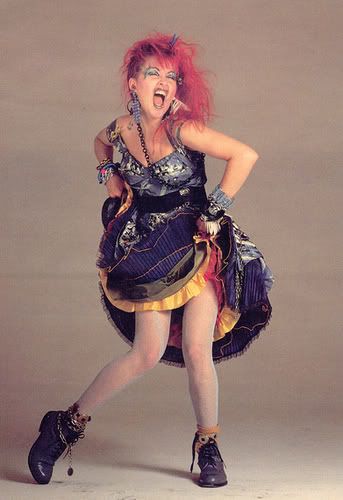 I did find some
erm
awesome makeup inspiration that I am going to attempt and I'll show you how I look in it.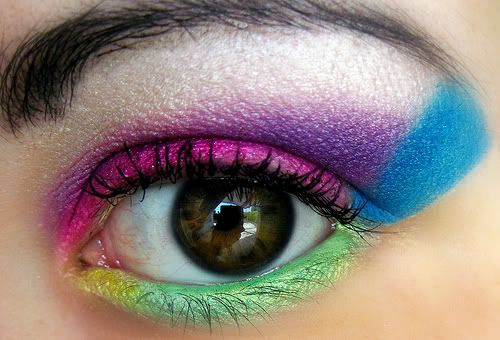 I think I'm going to attempt this.
When I bought this
Camel Pussybow blouse
, I had a few instant lightbulb ideas on how to remix it. I shall wear it with skirts - solid colour skirts, printed skirts, skinny jeans and so it was from this blouse that my fashion resolutions sprung. If I cannot think of 3 wears for a garment, I shall not buy it. Camel seems to be the hottest colour of last season and even if I found myself usually shunning it, I was forced to re-look and re-think my perspective. After awhile, it grew on me. Not every camel/nude/tan tone looks good on me since I am a little tanned but I am all over this blouse since there are little bits of details that made it a winner - the subtle puff sleeves, the cool shantung silkish material, the smock gathers
(means allowance at tummy!)
and a perfect length for tucking in or hanging it out. The big plus is of course me fitting into a size 18!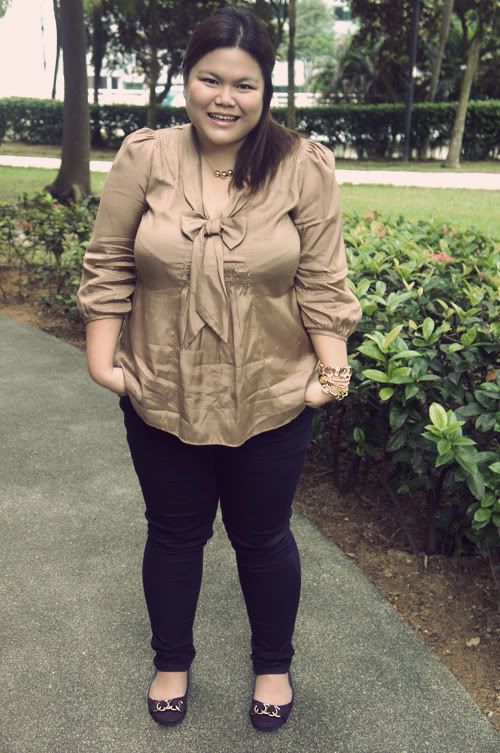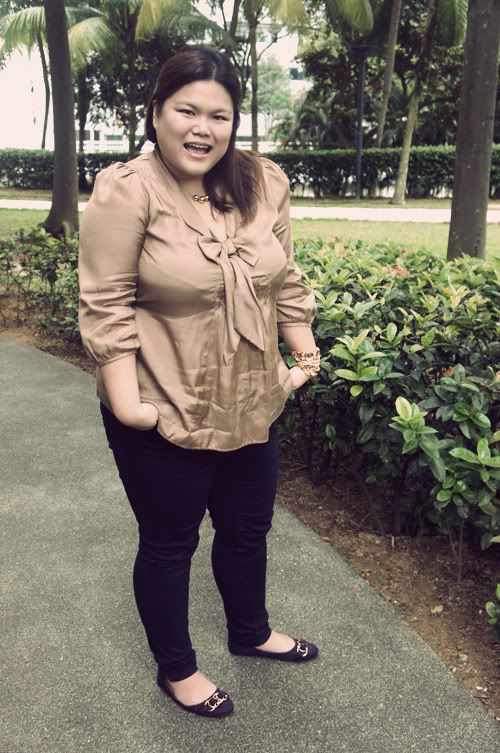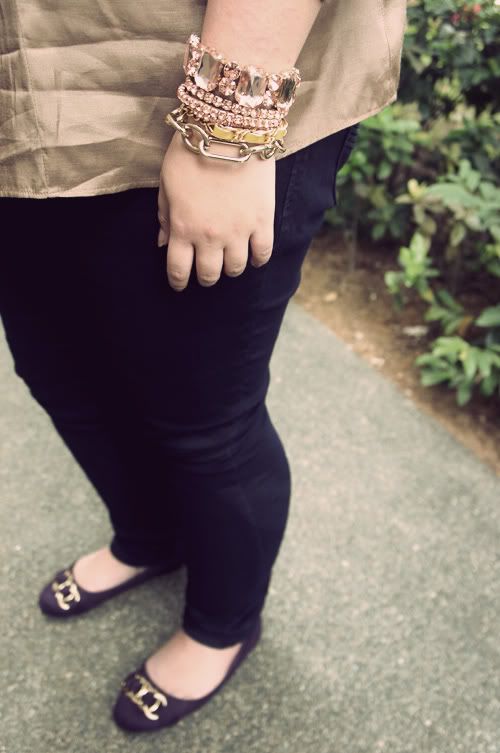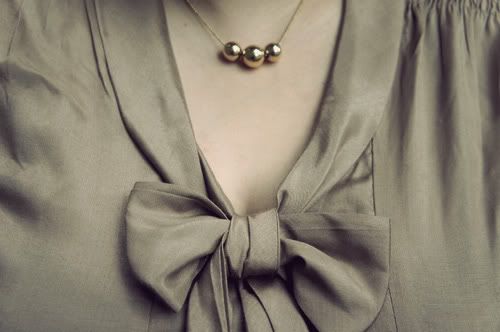 Bows for the Dorothy Perkins Camel Pussybow Blouse:
These skinny jeans are a favourite from Dorothy Perkins. They are "Dorothy Perkins Super Skinny" and I love them the best from all my jeans collection. They have this in dark blue and black but I am so head over heels over the dark blue one that I bought 2 pairs because you know
chub rubs kill pants and bottoms
. I only wish I had bought more because this pair is pretty chub-rubbed.
I actually felt really inspired that day when I mix all my bracelets together. If you notice, there are times I chose to overkill with accessories just to make use of them. Somehow I think each of them went well with camel so I wore all. I was at work, ran errands after work and had dinner with the Boy. I felt chic the entire day and that put me on cloud nine!
Is there a particular piece of clothing that you have been loving and want to wear all the time?
Camel pussybow blouse: Dorothy Perkins (available here)
Super Skinny Jeans in dark blue: Dorothy Perkins
Purple flats: Dorothy Perkins
Rose-coloured gem bracelets: Forever21
Yellow leather bracelet: A shop off Far East Plaza
Gold Tone Bracelet: Myth @ Far East Plaza
Gold Necklace: Soon Lee @ Haji Lane
Labels: Blouses, Bowdicts, Camel, Dorothy Perkins, OOTD, Outfits, Pussybow, Reviews