OOTD: All Pencil & Some Bows
First of all, thank you for loving my peacock eye makeup! I was very pleased to be able to replicate what I saw on the magazine. If anyone is looking for a whole lot of colours in small portions, may I recommend the
Coastal Scents
88 colour palettes? They are cheap (again, that's relative I suppose) and the quality is great, super easy to put on with strong staying power and brilliant colour selections. That's what I used for my peacock eye. They have other palettes too so you can check out and see what rocks your boat.
Following
Claire's
,
Elizabeth's
,
Beth's
,
Valerie's
and
Nicole's
lead on pencil skirts, I've remembered that I had a pencil skirt from ASOS which I have not reviewed so I dug it out along side with some accessories that I had for years and never used.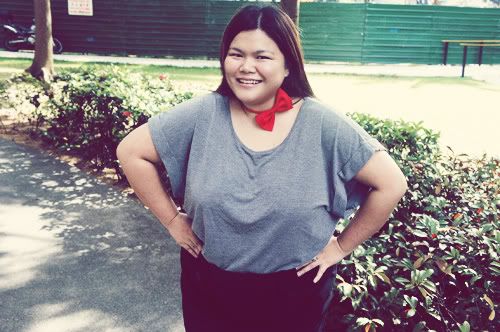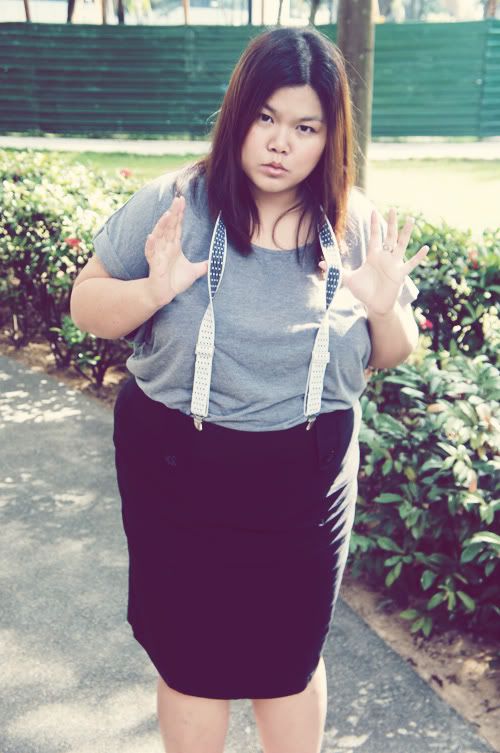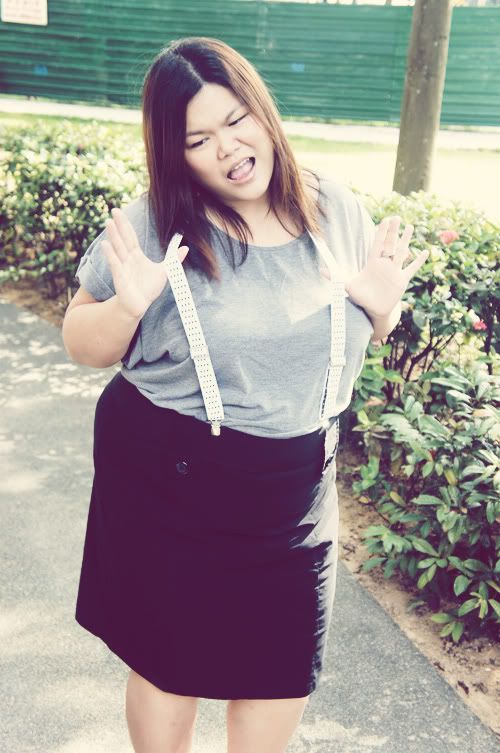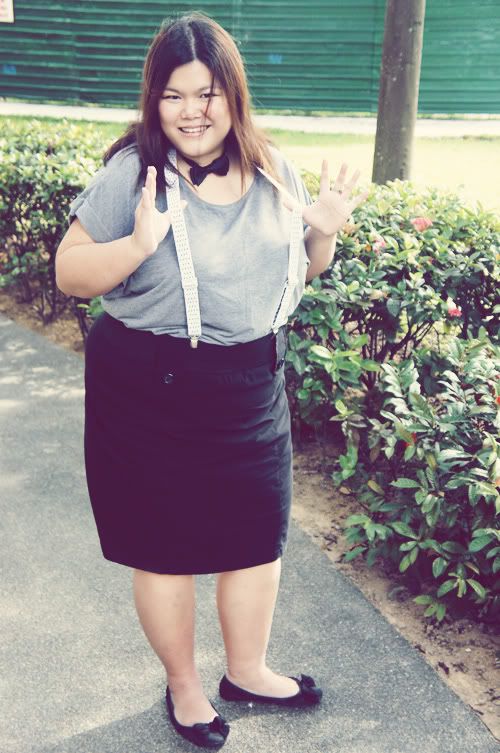 I had these neck bows and suspenders in my wardrobe for ages. When I mean ages, I mean like 5 - 8 years at least and I've never once wore them! I feel determined to bring on the justice and let them see the sun at least once. Suspenders are so difficult for women with boobs. If I put them on each side of the boob, it looks way obscene. If I let them lay on my boobs, it looks odd and constricted. These pictures above are just for your viewing pleasure. I stuck with the red neck bow look because I think at least I looked like a huge present walking and that's cute!
Verdict for the ASOS CURVE Bengaline Tab Front Pencil Skirt:
This skirt is very elastic! It has an elasticated waistband and the material of the skirt itself can mold itself to your shape pretty well. I have never found a pencil skirt that fits so this is my first and I am pretty happy about it even though there's still some room for improvement. I feel that given the versatility of the material that it is made of can bring me far in the long run. I don't have to dress up for work so I always attempt to dress down with this. What I do wish for this skirt to have for more belt loops so that I can wear a belt over the waistband. It does have all but 2 belt loops (if they are even for belts at all) and if I put a belt over it, the belt will move around which is quite annoying.
Bows for the ASOS CURVE Bengaline Tab Front Pencil Skirt:
.
Thank you to
dc
and
Hannah
for more blog awards!
Skirt: ASOS Curve Bengaline Tab Front Pencil Skirt
Tshirt: Cotton On
Black Neck Bow: ?
Red Neck Bow: A shop off Bugis Village
Suspenders: Topman
Shoes: Dorothy Perkins
Labels: ASOS Curve, Bowdicts, Bows, OOTD, Outfits, Pencil, Reviews, Skirts, Suspenders