OOTD: Of Peaches & Eggplants
I found a bag of 5 boleros from a Bangkok shopping trip some time ago and I remembered feeling very pleased with the buys. Not only were they cheap but for a person who is insecure about her arms, these are the perfect lightweight throw-ons. Made of mesh, chiffon and tulle, they are the girly frilly type that I like. I also found
a similar bolero
from ASOS at the original price of £32 but I got mine for only £5. Okay, perhaps they weren't that cheap in retrospect but 5 boleros for slightly less than £25 and a whole bagful of potential looks is a steal in my opinion.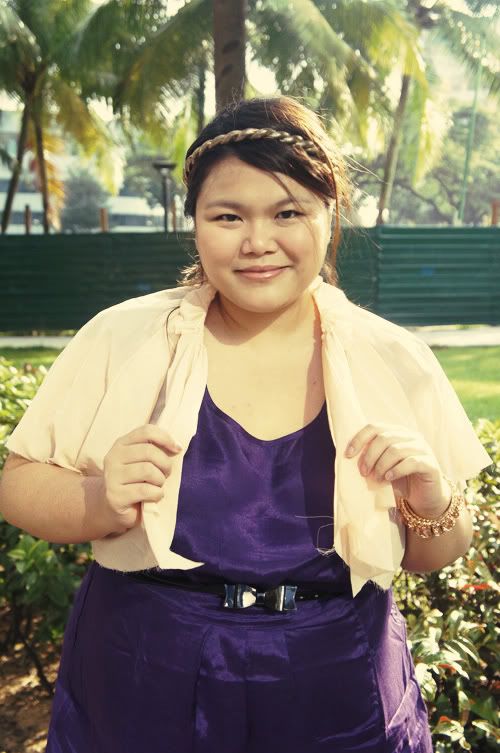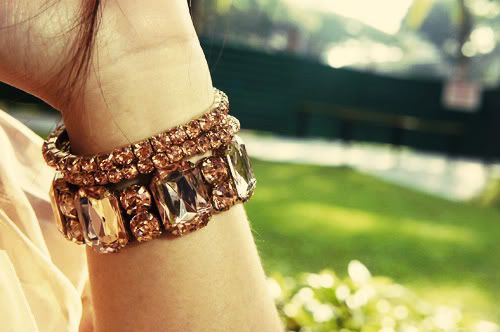 I also thought I wouldn't be able to use much of
this Forever 21 gemstone bracelets
in rose gold since it is kind of a hard colour to match but I have already found 2 uses for them. I was attracted by the beautiful colour and I just wanted to buy something to bring away from my Kuala Lumpur trip.
Oh and I tried to do the headband thing but a little unsuccessfully since it turned out into the mess as my hair is awfully layered and hard to stay in place but I still kind of like it and would use it on a bad hair day!
Verdict for the ASOS CURVE Frill Sleeve Fitted Waist Dress:
I
sort of
liked it when I first laid eyes on it. I said sort of because I wasn't sure. I mean I knew I would definitely go for the royal purple instead of the blue. The colour is brilliant and rich and complements any type of skin tone well. It had a tulip shape bottom which I cannot advocate enough how flattering it is for my body type. What I wasn't sure was the sleeves because they were too short for my liking and I wished they would have been longer so that I would not need a cover-up. The material also means that it is easily creased (just look at the pictures). When I sit down, it folds over and creates these multiple creases which are pretty annoying. But at the price of £9, I would still say 'Yes Please'!
Bows for the ASOS CURVE Frill Sleeve Fitted Waist Dress:
I have quite a lot of pictures to show for my Dinner and Dance in which I am supposed to turn up in 80s but as it is, I ended up looking like a 70s hippie flower child. More to come!
Dress: ASOS CURVE Frill Sleeve Fitted Waist Dress (here)
Peach Bolero: Bangkok
Headband: Forever21
Rose Gold Bracelets: Forever21
Patent Bow Belt: Marks & Spencer
Shoes: ?
Labels: ASOS Curve, Bowdicts, Dresses, OOTD, Outfits, Reviews