If I Should Plant A Perfumed Garden
In response to a previous post on
Singledom
, I have always felt that people can always learn to be happy and contented while being single. Key word is "learn". I mean it's all in the state of mind. There are always pros and cons to being single or attached or married and no one person could be truly happy just because we are not born to live peacefully with what we have. In fact, what we don't have makes it more desirable and even, exciting. Even I, the advocater of not wanting to be in love for the sake of being in love or become society's many little cliches found myself weak-willed enough to want to snip off the 'Single' tag.
Warning: Long story ahead. Proceed with Patience.
Everyone knows I like to read, even strangers in irc. When they question me about my hobbies, the first thing I'll say is "Read".
Don't ask me why I am still on irc at this grand old age ... everyone needs a diversion now and then. My particular favourite therapy is to take off the "Miss Nice" mask behind the screen and holler at bad, married men seeking opportunities for infidelity.
It is no secret and I am not ashamed that between the occasional reads of popular books and classics, I also like to read trashy and erotic novels before my nightcap.
It leaves more room for the imagination you see, when you are thinly clad in your pajamas and you're setting up the background for a chance during sleep that a hot man might fully penetrate your dreams.
I am also unabashed to say that I have probably swept through the entire shelves of
Johanna Lindsey
,
Amanda Quick
to list a few in
Bedok library
and I never had problems with lingering at the shelves to find which book cover shows better illustrated biceps (not interested in the bigger boobs since I have my own which you have to agree is more three-dimensional ...) before ushering it off to the self-service machines. Your stern neighbourhood librarians would never need to know what you have been reading! However there comes a time like yesterday in which I was browsing at Borders and besides picking up
Neil Gaiman's
American Gods
(
Someone
, I believe had made off with the
Bedok Library's
copy. It always said available in the system but could never be found despite reservation. Roaaaaar), I also had a sudden desire to cuddle up in bed later with a bedtime story. Needless to say, the Romance section is my pick. I felt vaguely embarrassed since most books on the rows of shelves displayed explicit covers of tanned, deliciously bulging biceps and half-dressed women inclined at 90 degrees going on 180 (which would be a definite as the book progresses).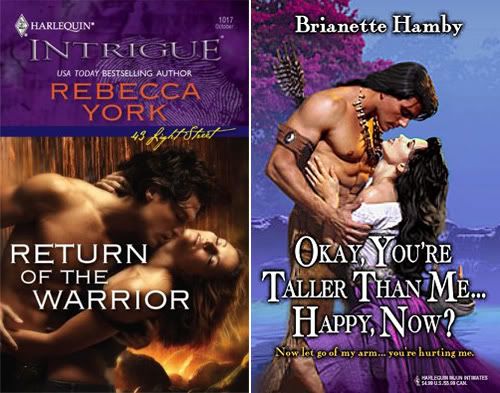 This is a great example of the 90 degrees inclined position.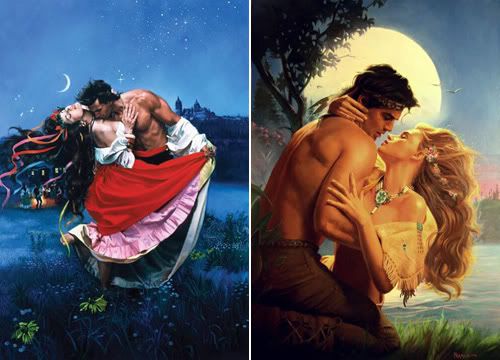 So not lying when I try to show that I remember my geometry and P.E. Look at the abs!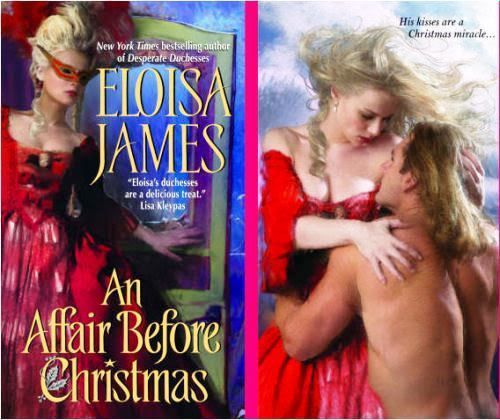 Finally one not inclined but compromising nonetheless.
I was concerned that people who passed me by are going to judge me seeing how I indulge in erotic novels!
This is no good for my coolly confident image
i thought as I scuttered into the next shelf showing "Crime & Thriller" to observe when the coast is clear. For the next ten minutes or so, only an elderly man wandered into the area and perused the covers, presumably finding one with well-illustrated big boobs since the opposite is true for me. He stood there for five minutes, his intent eyes roving and absorbing before shrugging and walking away. Finally, I decided to assume an amused expression before returning to the place of intent. This way, others will think that I am looking at them just for kicks.
As long as I do not trace my finger along the biceps.
All romantic, erotic novels have the same context really. First it is Resistance followed by Forbidden Lust and Helplessness and finally, Acknowledgment and Invasion but I still had to choose a more appealing storyline, shouldn't I? All erotic novels are equal but some erotic novels are more equal than others. I made my choice and here's the problem. The cover. It was printed with a lascivious picture front and
back
.
Carrying the book around while trying to browse for other titles is a nightmare. I kept trying to use "American Gods" to hide the explicit nature of the book.
Sorry Gaiman.
But still, sometimes an exposed bust would peek out from within. Next, I did not know how I was going to manage potential giggles from the cashiers. Perhaps I am being paranoid but if I am the cashier, I would not be able to resist a knowing smile thrust in the buyer's direction.
So anyway, I got out of the horror because Lady Luck was on my side and made the male cashier really flustered with people popping by to ask him questions. About the book. It IS erotic. Usually, the erotic novels have perhaps like 20 pages on sex acts but this one takes the cake. It talks about uh ..
interesting
methodology that I am eager to try out. About thick, fat golden pens and okay I digressed too much. Yes this post is about why erotic novels make it difficult to remain single. So, erotic novels have the effect of making singles miss what they do not have like the warmth of a man, the blatant flirting and the musky smell of sexual attraction in the air although I maintain that this is strictly reserved for those who had sampled the fruit of forbidden pleasure and like it well enough to crave. What's the word again? Yes, erotic novels make me "sexually predisposed" enough for me to actually consider if I have been psychologically malformed by my length of celibacy. Do not laugh. I am serious. Will my self-imposed lack of intimacy turn me into a grouchy old woman someday who only finds cats and plants agreeable living things?
This is what my mother has always been worried about.
Labels: Books, Eroticism, Erotology, Intimacy, Singlehood