Movie Review: Before Sunset
It's a little late for this since the film came out in 2004 but this is my second time watching it and I still feel the value in writing about the emotions it evoked in me the way not many films did with dialogue.
I've never watched "
Before Sunset
" before its prequel in a theatre years ago but the movie drew in enough references to keep first time audience like me in touch with what was going on and so really, there is no need for making intelligent guesses. I remembered walking out of the theatre suitably pensive and feeling incredible that 100 minutes of intensive speech between the two actors had not rendered the film boring by any means but then again, I have always been a literature type of student hence the lack of action and drama do not scare me anymore than a bad storyline and deplorable acting.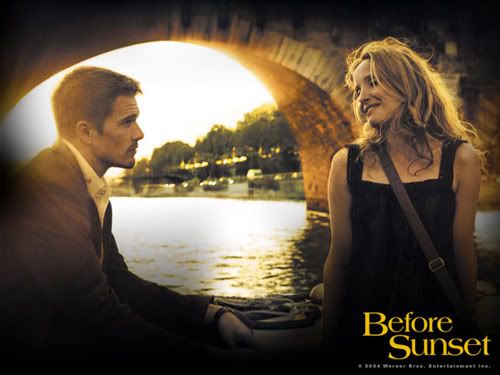 Perhaps it's my love for the city that also tilted me in its favour - of the characters strolling down the streets of Paris, into the
Le Pure Cafe
, onto the garden trail followed by a ride in the Canauramax bateau-mouche down the Seine river and getting off at the Quai Henri Quartre. With such a beautiful backdrop, an arresting storyline, wonderful chemistry between the couple, this film had become impossible not to love.
There were many private moments so privy to the couple that you became both the intruder and the voyeur. There might be the occasional thought that you should leave them to their devices but as it is, you are unable to tear your eyes away and would loathe to let go. And so you trailed behind, fully absorbed into the lives of these two individuals who had lost the chance to explore what could have been nine years ago and emerged again with different circumstances but feelings no less strong.
And I thought the open-ended ending was wildly appropriate. I often find myself hating books/films that do not have a conclusion (see if there is a starting point, then there must be a finishing else it would be a race that bears no fruit. I know I am the eternal cynic and I know that most people would argue that the beauty is in the process but oh well ... it's good to know when to start and when to stop).
So what would you do if you are cast in the shoes of Jesse and Celine, with new responsibilities that they must account for yet coupled with a human instinct to be selfish for a Love that might only drop in their laps once in a lifetime?
Labels: Before Sunset, Films, France, Julie Delpy, Movies, Paris, Reviews