Quack Up A Storm!
北京前门全聚德烤鸭店
The moment we touched down in Beijing, our first dinner thoughts reached out to Peking ducks. How could we not, when we flew this far to attest flattering reports of crispy duck skin and tender, juicy meat? A friendly chat with the local cab driver sent us to the Quan Ju De's (全聚德烤鸭店) multi-leveled outlet in He Ping Men (和平门) which he said is the most authentic and delicious of all outlets.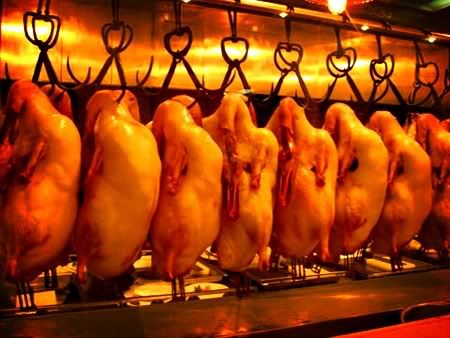 A welcoming sight of rows of ducks still in their birthday suits greeting us
The restaurant was run in absolute efficiency as they quickly ushered you through the levels by use of walkie-talkies to ensure that you have a seat. The ducks were roasted with non-smoky hardwood fuel such as peach and pear to give its subtle fruity flavour.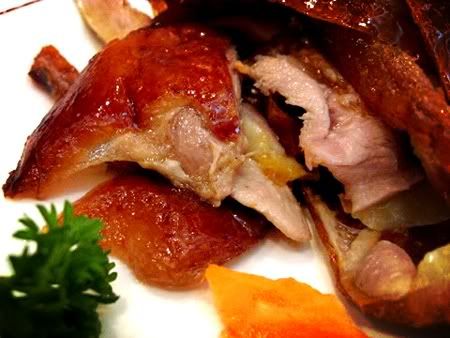 We were well rewarded for our six hours flight when we took an initial, crunchy bite. It tasted of heaven.
The helpful waiters/waitresses also stopped by each and every table to explain the history of the very duck being violated and demonstrated with ease on how to make a roll with the use of just a pair of chopsticks but in the end, I gave up, the process was too time-consuming.
They were efficient with the chopsticks while I was still living in stone age where my hands are my chopsticks but what's the fuss? The duck is still well-appreciated!
It was very gratifying to sink my teeth into such succulent meat after a flight of anticipation but I have to say that after your basic craving is satisfied and the need for duck goes away with every bite, my marginal utility level dipped. It was too oily to be consumed in great quantities. Nevertheless, visitors to Beijing should definitely put this on their agenda to try at least once. I would advise that no one gets too over zealous since almost every single dish on the menu has something to do with ducks. You end up getting duck rice, duck noodles, duck meat soup and vegetables fried with duck and it could be very disorienting.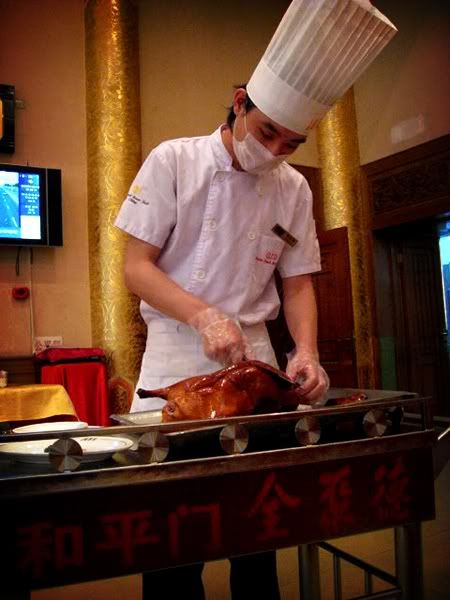 The surgeon and the duck in which there was no hope of survival under the blade.
地址/Address:
北京前门全聚德烤鸭店 Beijing Qian Men Quan Ju De Kao Ya Dian
北京市崇文区前门大街32号 Bejing Chong Wen Men Qu Qian Men Da Jie 32 Hao
电话:01067011379
老北京炸酱面大王
One of our very last meals in Beijing, we decided to end it with a duck note. "
I come for duck, I leave with duck
" was my skewed mentality at that time. After a full one day tour at the Great Wall, the
Ning
tombs and the Temple of Heaven, the cab driver (we ingratiated well with cab drivers during our trip, they withhold a wealth of culinary information!) made a recommendation that we try out Lao Beijing Zha Jiang Mian (老北京炸酱面) which is translated to "Old Beijing Minced Meat Noodles".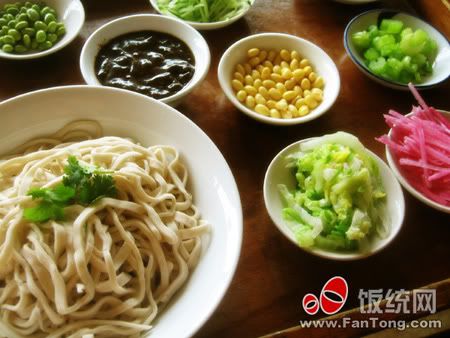 Image taken from Fan Tong
You are served with a plate of plain, unadorned noodles with an array of sides that you could choose to mix your noodles with to customize your favourite way of eating
Zhang Jiang Mian
. The dark sauce ii the picture is yellow soybean paste which is very salty so please go sparing on it. The pink strips are ginger slices and the greens are chopped celery and cabbages and there are also different kinds of beans. In Singapore, you can also find
Zhang Jiang Mian
in some of the handmade noodles stall in hawker centres or food courts and even Crystal Jade La Mian restaurants. However, mostly the local
Zhang Jiang Mian
are only topped with minced meat and thinly sliced cucumber strips.
A deep-fried crispy duck with tender meat on the left. Preserved vegetables fried with glass noodles on the top and soft deep-fried milk desserts on the right.
I apologize for the desecrated duck since we tucked into it way before recalling we needed a picture. The duck turned out ugly but had the most crispy skin and tender meat. Never judge a duck by its outlook. It was not oily at all, a little bit on the dry side but you could eat the whole duck without feeling inundated. The deep fried desserts were very soft, sinking your teeth right through the milky goodness. I imagine them to be very popular with toothless old folks.
I likened
Zha Jiang Mian
to be a form of Chinese Bolognaise pasta (only in Beijing, there's no minced meat in the minced meat noodles). I didn't like mine as much as I like the Singaporean form. The yellow soybean paste was too salty for my liking but those who have an affinity to trying pasta worldwide should consider giving this a go.
地址/Address:
老北京炸酱面大王 Lao Bei Jing Zha Jiang Mian Da Wang
崇文区 崇文门外大街29号 Chong Wen Qu ChongWenMen WaiDaJie 29 Hao
Labels: Beijing, China, Duck, Food, Gastronomy, Lao Beijing Zha Jiang Mian, Peking, Quan Ju De, Travel, Wanderlust